Porn performer Piper Perri is always meant to look like the youngest person in the room. In this particular instance, her blonde hair is tied into two low pigtails, and there's a unicorn on her pink T-shirt. All the while, she flashes a big, full smile, and the thing that most suggests her youth: A full set of metal braces.
At 4-foot-9, 80 pounds, Perri is about as petite as possible. But it's her braces that get her cast as a "teen." After musing about her small stature, her Pornhub bio reads, "Piper also sports a signature set of braces, but she's no pecker wrecker. For such a small girl with a pretty face, she still knows how to open that mouth nice and wide to suck some major meat without leaving a single scratch on that shaft." Her credits include Daddy's Watching, Coming of Age Vol. 1, Little Princess, Break My Hymen: Her First Time and Good Little Girl. She's currently the 44th most popular actress on PornHub.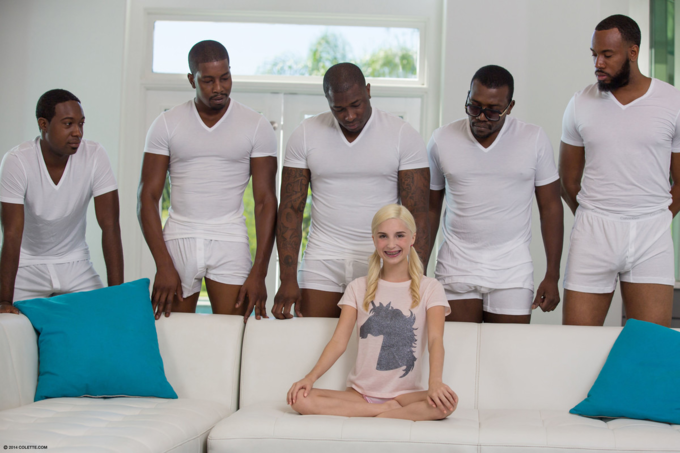 She's far from the only one there with metal in her mouth, though. Anastasia Knight, Melody Parker, Vanna Bardot and Daizha Morgann sport braces, too, and there are currently more than 1,000 videos on Pornhub that feature "braces" as a search term. Like, for instance, this one: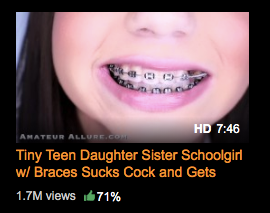 Obviously, the primary job of braces is to fix crooked teeth. But they also come with an added benefit — the appearance of youthfulness. "'Once I had my hair in ponytails, with a baseball cap on, and got myself carded at the grocery store,'" a woman in her 20s who got braces told the Chicago Tribune back in 2003. Similarly, a Seventeen magazine essay about having braces in college tells the story of a 21-year-old who was told by mall security that she wasn't allowed to be there after 5 p.m. without a parent.
This, of course, is critical to the teen genre of porn, where performers need to be over the age of 18 but the fantasy is meant to get as close to the legal line of statutory rape as possible. "In my opinion, it's something about innocence," a user of r/braceface, a 100,000-follower-strong subreddit dedicated to porn that features women with braces, responds to my post about what they find so hot about all that metal.
For others in r/braceface, however, braces are a fetish for a completely different reason than their teen-like purity. "I've been absolutely fascinated with braces since I was about seven. I always wanted braces even though my teeth were fine. I finally figured out that I had all these crushes on girls with retainers and braces because it's a fetish and I've embraced that," says redditor bracesthrowaway. "I've had braces twice now and got a permanent retainer recently because I missed having some kind of metal in my mouth. My wife has had braces twice."
Redditor AntiSocialBlogger adds, "For me, it's like a form of bondage. Seeing a hot woman with all that metal in her mouth is a big turn-on. I've been into braces since I was a kid. I've had them, and my wife also had them. Having my wife with a mouth full of metal for two years was a fantasy come true. She still has retainers that she wears every night, and it's still a turn-on for me."
In this way, per Alex Hawkins, the vice president of the tube site xHamster, which gets about 40,000 searches for "braces" a month, the fetish isn't so much a fetish as it is a universal truth — or at the very least, something a large number of people have experience with. "I'm sure there are men and women of all ages for who braces are a huge turn-on," he reasons. "In fact, with braces in particular, I could imagine that for those who were shamed for wearing them, it can even be liberating to watch that content."