Even if you've never watched the clips from the porn series Big Sausage Pizza, there's a good chance you're familiar with it, as it's become the subject of a multitude of memes, parodies and T-shirts. 
And even if you've never seen any of that stuff, you can probably get the idea pretty quickly: Dude does the ol' popcorn trick, but it's a pizza box (that's it). The series is remembered mostly as being one of the more ridiculous parodies in a genre that is rampant with ridiculous parodies, which is why it's become such a running joke.
But despite the plethora of Big Sausage Pizza content online, there are still some pretty important unanswered questions remaining on the subject. Like, how hot was that pizza, and what kind of toppings did they get when they were ordering from their local pizzeria? Also, what became of those pizzas on set? 
Seriously, if these are the burning questions in my brain, surely they've occurred to someone else too… right?
On Their Memories From the Set of Big Sausage Pizza
Dane Cross, retired adult film star: One of the Big Sausage Pizzas I starred in was picked up on Reddit as one of the funniest porn intros ever. I gained some notoriety from that for the absurdity of it. The guy who directed that scene has been something of a fixture in the industry for more than 30 years now — he goes by the name Jim Powers. He's kind of known to be out there with his scripts and ideas and, with this one, the level of absurdity jumped to a new level, with the grandpa dying and all that. 
Plus, they want you to have sex with the pizza still on until it basically falls apart. That one was a really memorable day. I've done over a thousand scenes and that one will be in my memory until the day I die.
Jim Powers, adult film writer and director, including the Big Sausage Pizza series: I made all the best Big Sausage Pizzas. The very first time I shot one, I thought, you just get a big giant pizza and drill a hole in it, but then I realized that all the pieces fall all over the place. That's when I realized that you have to buy pizzas that are uncut. So I would buy several uncut pizzas, one for the scene and one for the pictures too, so I had to buy stunt pizzas. Also, stick with plain cheese, because if you get salami or peppers or jalapeños, it burns the penis and the mouth. It was a learning experience.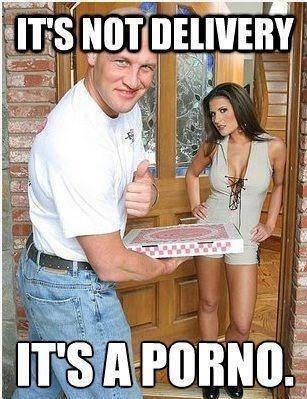 Christian XXX, adult film star: My favorite meme is "It's not delivery, it's a porno," featuring me with the great Austin Kincaid. It's been around forever. Guys really enjoyed that site and then recently SNL and J.J. Watt did a parody of Big Sausage Pizza that was hilarious.
On What Became of Those Pizzas
Powers: Nobody ever ate those pizzas because there was a big cock going through it the whole time. I did order extra pizzas, though, for the crew and me to eat. I always bought them from Ameci's, which is a chain here in L.A., because they were cheap and big and you can ask for them uncut.
Cross: So, yes, some of those pizzas were eaten. It was more as a joke. In the porn industry, we're kind of "whatever" about things, so we're not put off by much. The pizzas weren't eaten in a genuine way, but I did eat some of the pizza to get a rise out of somebody.
Christian: Ava Devine made us cum on a slice of pizza so she could eat it. 
On the Proper Temperature a Pizza Should Be Before One Sticks His Dick in It
Cross: That pizza should be as cold as possible. None of the pizzas I've ever worked with have been anywhere near temperature.
Chrisitian: The pizza was cold. We didn't order the pizza that day or anything.
On If There's Ever a Cool, Consensual Way to Hide One's Dick in Pizza to Surprise Their Partner
Cross: I've thought about this many times since my last Big Sausage Pizza scene, and the answer is "no." Not to mention, there's no practical application for this, ever. Even if your kink is that you're into food, there's so much that can go in places that shouldn't, and it's insanely messy. So, as a practical matter, this is never going to be useful in real life.
On Their Favorite Pizza Topping
Christian: I'm a pepperoni guy myself.  
Cross: Pepperoni by far. 
Powers: I love sausage on a pizza — especially spicy sausage!
On What Goes Well With Sausage on Pizza
Powers: Jalapeño.
Christian: Onions and mushrooms.
Cross: I actually don't like sausage at all, that's the ironic thing. Big Sausage Pizza certainly didn't help with this, but this was true before I filmed those scenes. I don't like fennel, which is usually in sausage, so I've always shied away from it.
On How Best to Prepare One's Sausage
Christian: I enjoy cooking jalapeño sausage in a pan on a stovetop with diced potatoes and maybe some sauerkraut.
Powers: You've got to grill the sausage. You grill the sausage, slice it up and then grill it again.
On the Correct Amount of Sausage for a Pizza
Powers: I'm not really a chef, but it depends upon the size of the sausage. Probably two sausages for a whole pizza.
Cross: I'd say it should be on just half the pizza, that way you can have options if you don't like sausage like me.
Christian: As much sausage as humanly possible.