Whip out your Bingo cards: Ben Affleck, like Arnold Schwarzenegger and Tom Hardy before him, has gone on record to admit he, too, is plagued by self-loathing. The actor, who was named People's Sexiest Man Alive in 2002 and has been paid handsomely as an extraordinarily good-looking man person for many years now, told the Associated Press that he doesn't care for the way he looks. At least in sex scenes.
At the London premiere of Live By Night, the movie he directed and stars in as the son of a police captain, he admitted that, though he tried to put the Ben Affleck goods in the best possible light, it didn't quite pan out. "I just try to make myself look as good as possible," Ben Affleck said. "I just think, 'What's the most flattering sexual aspect of myself?' and I try to put that in the movie. And you know what? I had to cut it out, it was that depressing. I looked like a sick polar bear."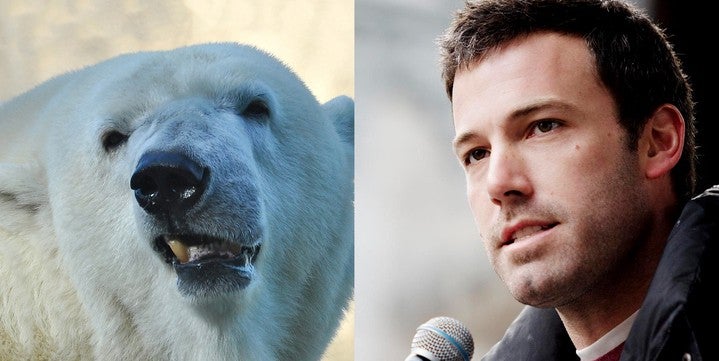 What does that say about Ben Affleck's self-image — and more importantly, what does it say about polar bears? Research shows that polar bear sex, probably even sick polar bear sex, is pretty epic, even compared to Hollywood celebrities who were paid $12.5 million dollars for the movie Bounce. Male polar bears track female mates by scent from as much as 10 miles away, fight other male polar bears viciously to get laid, have sex constantly with their lady bear for weeks on end, and then, you know, bail. Based on the year of scandal, divorce, post-divorce and cigarette-smoking that Ben Affleck has been having, perhaps he relates to that tumult a little too well. Perhaps 2017 will be the year of better-looking sex, Ben Affleck.