I'm watching ESPN with three male seniors in a low-lit lounge in Midtown Manhattan when bad news flashes across the 70-inch TV: Clint Frazier, left fielder for the New York Yankees, is out with a sprained ankle. Word of the 15th Yankee headed for the Injured List elicits a chorus of groans from my silver-haired companions, each seated in leather club chairs surrounded by a collection of footballs, baseball jerseys and hockey pucks signed by New York sports legends. Phil, however, is less bothered by the update. The 60-year-old retired detective isn't much of a sports fan, he explains, putting the finishing touches on a latte at the coffee bar across the room. That said, he did enjoy going to Mets games at the old Shea Stadium.
"Expansion team," mocks Joe, a 70-year-old retired IRS researcher who believes there's only "16 legitimate teams" in baseball — eight in the American League, eight in the National League. "Nearly all of the Yanks' starting 10 players are on the [Injured List], and they're still only a game out of first place! [Luis] Severino is hurt. [Aaron] Judge is hurt. [Giancarlo] Stanton is hurt. [Didi] Gregorius is hurt…"
"Speaking of which, I just went for my colonoscopy," Phil interrupts, seamlessly shifting the conversation to best practices for ingesting bowel-clearing substances and coping with the resulting diarrhea. While it may seem like a gross non sequitur, getting guys to talk about their well-being is precisely the point of Man Cave Health, the newly opened waiting room of urologists Ash Tewari and Zach Dovey at Mount Sinai's Midtown Urology Clinic.
Compared to women, men are far more likely to avoid going to the doctor, skip annual screenings and live with more years of bad health. "Men take better care of their cars than their bodies and that needs to change," explains Tewari, a bow-tied, world-renowned expert on urologic oncology. "Man Cave Health is a new way of starting a conversation about issues which men don't like talking about." The notion being that if you build it — in this case, a dude-friendly doctor's office with flat screens, sports memorabilia and bottomless coffee — men will inevitably come.
At least that's the vision of Tom Milana, founder and chairman of Man Cave Health who funds the initiative through his family foundation. In 2015, his prostate-specific antigen screening test (PSA) went from a two to a five. (Normal PSA levels are between zero and 2.5.) Further testing and biopsies revealed more sobering results: "At the age of 48, I was told I had cancer," he tells me. "I was completely uneducated on the disease so my first reaction was, How much time do I have left?"
Fortunately, the next day a friend connected Milana with the head of the Prostate Cancer Foundation who walked him off the ledge, telling him exactly what he needed to do, when he needed to do it and who he needed to see. "He totally took the edge off," Milana says. One of the key components to Man Cave Health then is a nationwide, toll-free hotline. "When men are told they have cancer, the first thing they think is, I'm going to die. The second thing they do is go on the internet, where there's nothing positive to find," Milana explains. "With the Man Cave hotline, men can get a live voice on the phone to ask questions and receive answers."
Comfortably reposed in the physical man cave, sipping premium coffee and snacking on fresh fruit, I dial the number of the hotline — (833) HEAL-MEN — which is prominently displayed on all of the coffee table's brochures. While Milana intends for it to eventually be helmed by dedicated medical coordinators, for now my call is answered warmly by Jackie Lomtevas, executive director of Man Cave Health in Long Island, who says if I were an actual caller she'd answer any immediate questions before handing me off to a medical team at Mount Sinai. She adds that the hotline is already buzzing. The day after a segment aired on the CBS Evening News in January, for example, Lomtevas received a call from a woman who explained that her husband hadn't had a checkup in years but now wants to go to "the man cave doctor."
"Tom hit the nail on the head when he developed the concept because men typically don't like to talk about health-care issues," she says, "but they do like talking about sports."
And yet, some wonder if doubling down on machismo is really what the doctor ordered. "Sports-regalia, poker chips and all this 'guy' stuff actually makes me feel less at ease," says my friend Gerry Katzman, a standup comedian and actor in L.A. "I don't have a bookie and don't want to arm wrestle. I'm here because I need to know what's wrong with my ankle, could you turn down the fucking caber toss?" Matt Hale, a public defender and another friend in L.A., agrees. "I'm an adult. I go to the doctor for medical assistance. I'm not into watching sports, so pandering to that stereotype makes me uncomfortable."
Meanwhile, Tristan Bridges, a sociology professor at the University of California, Santa Barbara, who's been interviewing men with man caves for the past several years, tells me, "Man caves exist in Super Bowl Doritos commercials more than they do in real life," he says. "It doesn't surprise me that man caves have become a cliché. It seems to preserve the anecdote that men are taking care of their health but doing so in this hyper-masculine setting. Because I guess health is feminized?"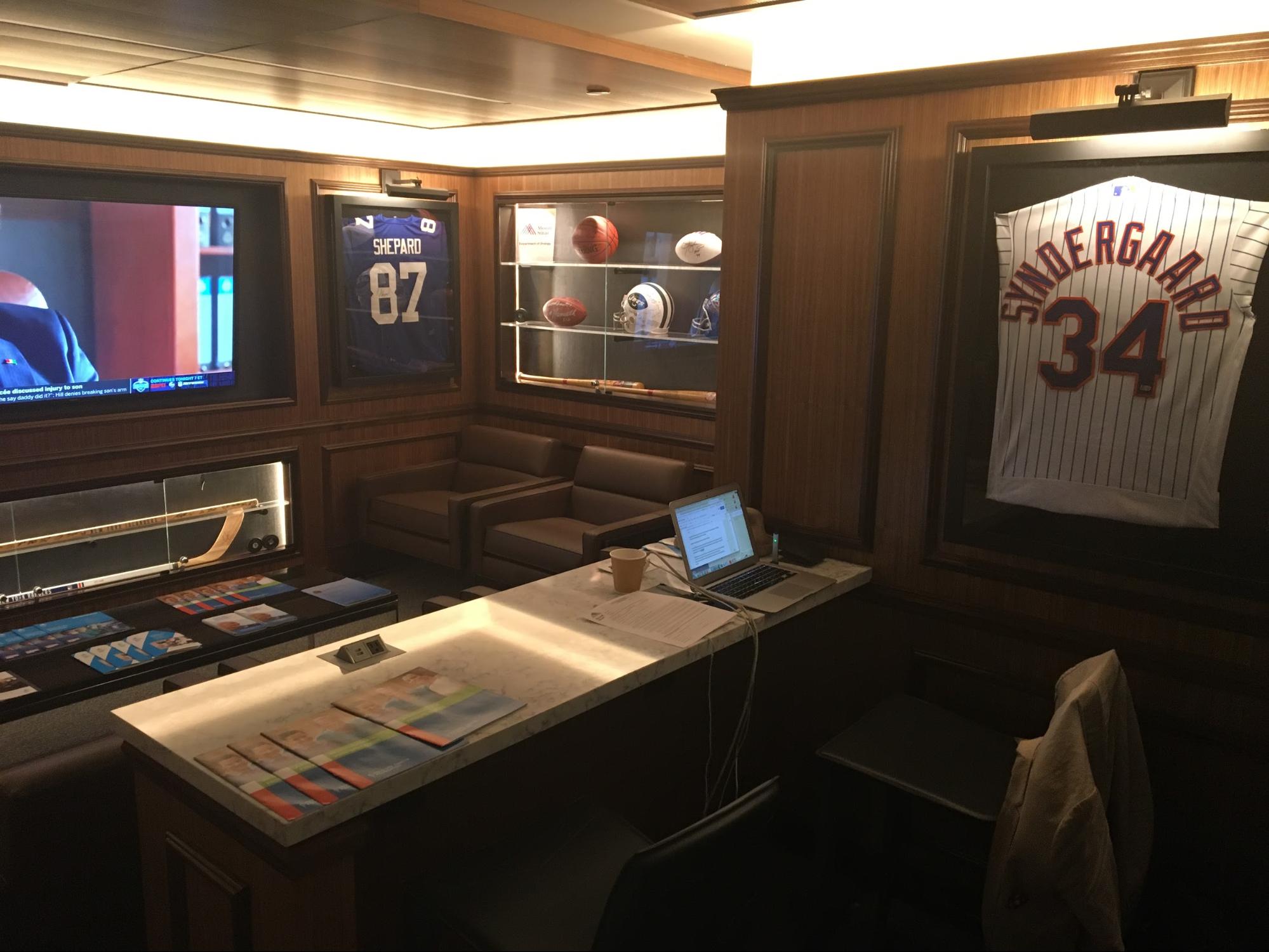 It reminds Bridges of the recent "Man Up Checkup" campaign launched at urgent cares across the country, which attempts to get men to take ownership of their health. While such efforts emphasize the notion that challenging men's masculinity will result in them taking action, Bridges suggests they miss the point altogether, similar to anti-rape campaigns like My Strength Is Not for Hurting. "Reinvesting in masculinity by saying things like, 'Man up and quit hitting women,' or 'Man up and have consensual sex,' aren't the best strategies when it's the ideologies of masculinity that are [doing the] harming," he says.
Further, Bridges thinks mobilizing man caves in the name of health panders not just to straight men, but to privileged, straight, white men, which is extra problematic given that prostate cancer disproportionately affects African-American men, who are more than twice as likely to die from the disease. Lomtevas welcomes this critique, proudly noting that Man Cave Health has booked the community center at Salem United Methodist Church in Harlem for a free Men's Health Fair on September 28th, partnering with 4K Score to provide free PSA testing and working with Women in the Black and Brother2Brother to help promote the event.
Regardless of race, Man Cave Health's stated goal is simply to get guys through the doctor's office door. So if dreams of living out a Doritos commercial gets them to do that, why not? "You walk into some of these women's medical facilities now, and they're spa-like, beautiful places," Milana says. "When men go to the doctor they're treated like a herd of cattle." Which is unfortunate, given that roughly one in nine men will be diagnosed with prostate cancer in their lifetime, making it the second leading cause of cancer death in American men (despite it being eminently treatable for the vast majority of patients). "There really isn't a bad outcome for going to your doctor for a PSA blood test," Dr. Dovey tells me on a set of barstools underneath a signed jersey of Giants wide receiver Sterling Shepard. "The only men who have a bad outcome are those who don't do anything."
Dovey is already seeing the benefit in his patients' temperament. "Sitting in a hospital waiting room is a fairly unpleasant experience," he says, adding that the man cave removes much of that discomfort. Plus, knowing his patients are more relaxed makes him more relaxed, too: "It's definitely improved the atmosphere around here."
And so, unsurprisingly, urologists elsewhere in the U.S. — like Jaime Landman, chair of the Department of Urology at the University of California, Irvine — have plans to carve out their own man caves while incorporating some local flair. "We'll have organic, fresh pressed juices," he tells me. (This is California after all.) And as UC Irvine is well-connected with local sports franchises like the Angels and the Ducks, Landman says his man cave will be sports-themed as well. "We want our man cave to reflect the local male population, which means an emphasis on surfing and golf."
It also means having an appreciation of cultural reservations about procedures involving sensitive area of the body — such as the rectum. "I have a Latino background and know Latino men really don't like the idea of a rectal exam," he explains. "It's particularly challenging, and I know we're not going to be able to overcome all of those issues by installing a man cave, but it certainly won't hurt to create a space with all the fun things a guy likes."
As for Milana, he's currently raising funds to construct, equip and begin operating Man Cave facilities nationwide. One doctor even suggested housing them in local YMCAs to reach men while they're still in good health, encouraging them to spend a few minutes with a phlebotomist after working out to have a blood test.
Back in Manhattan, a wide-eyed prostate cancer novice named Dave arrives for a biopsy, joining Joe, Phil and the other guys watching ESPN. He immediately strikes up a conversation about the Yankees with Joe ("…and I say that having played softball in a bar league at Your Father's Mustache against Phil Linz's place…"). I ask Patricia Henderson, the program assistant helming a small concierge desk, if this interaction is typical for newcomers. "It's an icebreaker," she nods, one she believes men need at the doctor's office. A couple of weeks ago, she recalls a group of men staying long after their respective appointments to watch a hockey game, adding it looked as though they were in an owner's box rather than a urological center. She eventually had to let them know the office needed to close.
Today, it's Joe counseling Dave on the value of discretion. He recommends not telling anybody (besides his wife, kids and a couple of close friends) he has prostate cancer. "Otherwise, the diagnosis will become you, and people will begin taking you aside and softly whispering, 'How are you?' You don't want that to happen."
Sure, agrees Phil, the detective, before adding, "But tell all your friends they gotta get their PSA checked. They can't be afraid. It sucks, but it's better than the alternative."