On J.Crew Men's homepage, a slightly weathered man (to denote his presumed wealth) walks on an empty, footprint-less beach. He's carrying grey Sperrys canvas sneakers in his right hand, while his left is tucked ever-so into the pocket of his cuffed, caramel-colored chinos. J.Crew filed for bankruptcy last year, and the leading image on their website tells you why: In the middle of multiple snowstorms across the country during a pandemic forcing us inside for nearly a year, their men's section's top digital model is a man on vacation.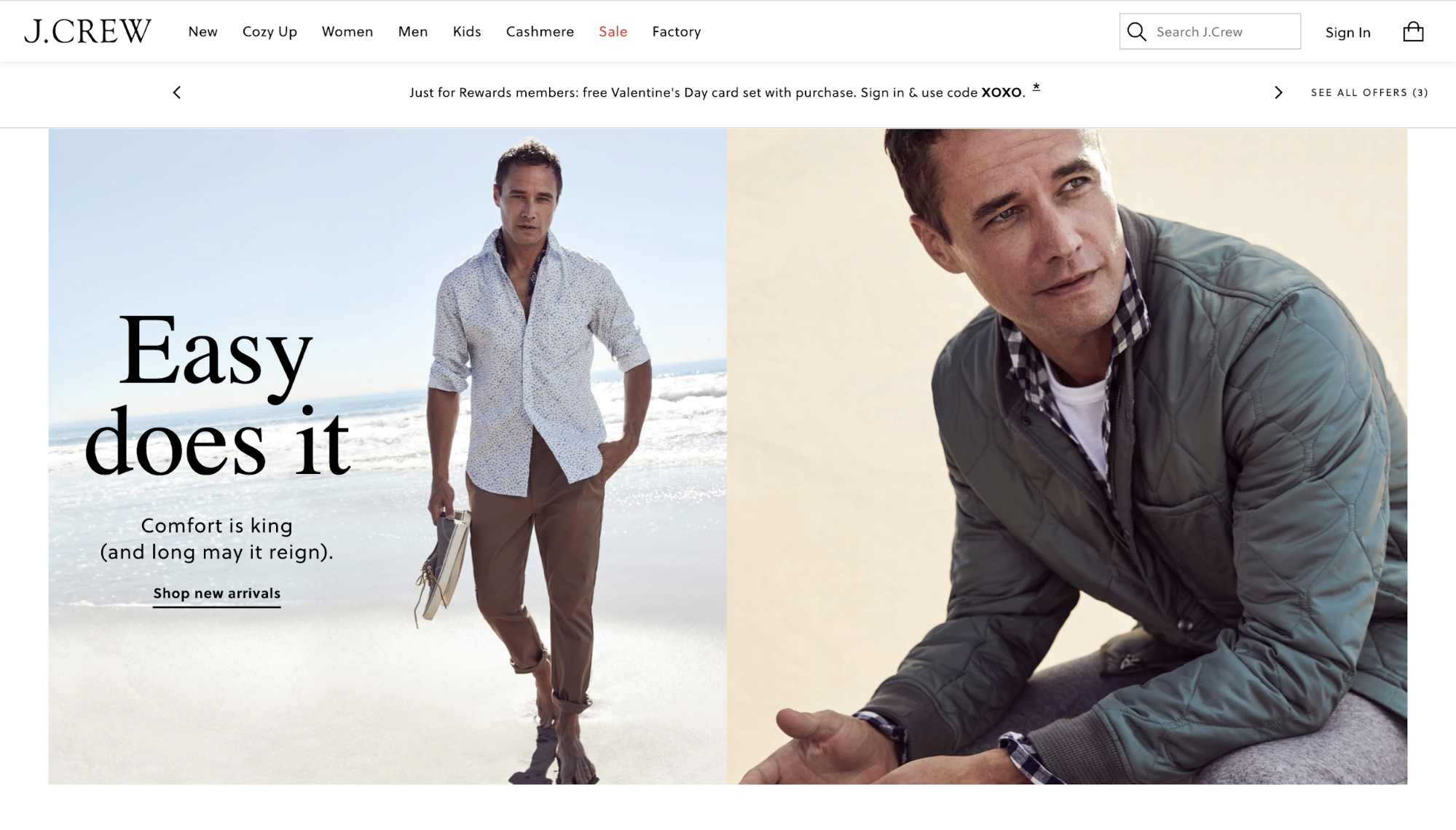 Hop over to rival brand Bonobos' website, and you'll find a similar story. While their younger leading guy is clad in trendy loose denim and a cozy sweatshirt embroidered with a ship anchor, scroll down a bit and you'll suddenly be bombarded with chinos. Their Year-Round Essentials of "updated classics that work from January to December. No Days Off," feature polos, button-downs, a pair of dark denim jeans and two pairs of chinos. Scroll a bit further, and you hit a second photo mood board — clothes "fit for champions, made for everyone." In Bonobos' classic preppy style, there are now three pairs of chinos, three polos, a braided black belt and… golf balls and tees. 

Bonobos and J.Crew are two of the leading fast-fashion brands for white-collar workers. For nearly a decade, they've dominated the corporate man's closet with a variety of cotton button-downs with tiny animal prints and pastel chinos to denote that you're professional but aren't afraid of "fashion." Even trendy Everlane and revamped Banana Republic want to sell you chinos as everyday pants. 
Last decade, chinos — the lightweight, flamboyant brother to khakis — reigned as the go-to bottoms for the white-collar man with disposable income. Finance bros opt for navy blue chinos, while their protégé frat stars wear Vineyard Vines salmon chinos. Prior to the pandemic, you could step into any WeWork and find an array of lanky, bearded dudes walking around in untucked button-downs and brown-shaded chinos while still listening to MGMT on their Beats Bluetooth headphones.
Then the pandemic hit and work from home eviscerated the need for chinos. It wasn't a silent kill — you can still find dudes in chinos; just head over to your local mall Happy Hour. Still, the pandemic is the final seam unraveling in chino's hold on professional menswear. 
According to Google Trends, search results for "chinos" peaked in 2010 and again in 2017. There's been a sporadic decline ever since. More specifically, Google searches for "colored chinos" peaked in April 2012 and drastically started declining by 2016. The only outlier is Bonobos, whose inquiries for chinos remain higher than the average. Still, their last peak came before the pandemic, in August 2019.

All the more telling, search results for "chinos" are higher than both khakis and slacks. This paints a very clear picture that chinos — and work pants at large — are on their way out. Still, brands continue positioning chinos as style necessities, even though professional sweatpants and business blue jeans are quickly becoming the relaxed fit future of menswear. 
A Foundational American Fabric
Chinos have the perfect All-American — read: capitalist — origin story. Soldiers in the Spanish-American War discovered the more durable twill cotton fabric in the late-19th century while stationed in the Philippines. French and British military already incorporated the fabric into their summer military uniforms, so the American army followed suit. 
Chinos reached their military sartorial peak during World War II, where millions of American soldiers served in light brown slacks. Droves of soldiers returning home after the war ended in 1945 enrolled in American universities and entered the workforce. They never changed out of their chinos. "You had all these rising middle-class men going to college, and suddenly they can afford college attire," Brian Centrone, menswear fashion historian, says. "Chinos didn't hurt them financially and made them on par with what was worn on campuses." 
From this moment on, chinos (and their stiff older brother, khakis) became synonymous with the modern American working man. Hell, khakis made MSNBC's data nerd Steve Kornacki the country's stable white boy of the 2020 Election. 
Jeans, spandex, jersey and linen all had their sartorial moments as menswear trouser trends over the last half-century. But none overthrew chinos in the workplace, who only bow to their boss' dress slacks. In fact, Chinos saw a leap in the 1990s when they should've waned due to emerging counterculture trends like goth, grunge and lingering 1980s preppy styles. "You have this neutral chino aesthetic," Centrone says. "They were as versatile in the 1950s as they were in the 1990s." 
Chinos remained successful simply because they were forgettable, and fitting in is quite possibly the biggest selling point for menswear. 
A Modern, Less Professional Menswear
It'd be simple to decide the pandemic's decimation of the white-collar workplace contributed to the decline in chinos. However, these slacks have been on their way out since long before corporate offices went entirely digital. 
In 2019, The Altantic's Amanda Mull chronicled the return to denim. Prior to 2018, the American market for jeans had been on a half-decade decline, while leggings and athleisure spandex soared. "It's clear that the death of denim was largely exaggerated. Not only is America getting a little bored of its black leggings, but jeans are back and, in many ways, bigger — and wider, skinnier, shorter and more varied — than ever," Mull wrote.
While Mull spoke primarily of womenswear denim, the same occurrence transformed over, albeit less intensely, to menswear. The return of jeans, coupled with the steady interest in athleisure and rise in dress sweatpants, has led to a disinterest in standard chinos. Their decline isn't a result of over-saturation — guys can get away with wearing the same dress suit since high school. Chinos are fading in large part because menswear is evolving for the first time in nearly two decades. With skinny jeans' grip finally unclenched and the black banker suit greyed, menswear is loosening its pants. 
That said, this doesn't mean that chinos will be gone for good. "I wouldn't say [chinos] faded in popularity," Centrone says. "The workforce that would wear chinos is remote." As such, he's hesitant to make any bold predictions about the future of office wear until the offices reopen. "What we really need to look at is what happens after the pandemic is over," he says. 
In the meantime, though, you can catch him at home in his sweatpants.