Arabian Prince gallops the hardwood floor on a fast break and sets up on the left wing — a trim 50-year-old in Kobe-brand high tops, therapeutic knee sleeves and a large pair of diamond stud earrings glinting beneath the lights.
We are at the YMCA in Torrance, Calif., a dozen miles southwest of Compton, the checkered neighborhood where he grew up. It's nearing noon. Sneakers squeak. Balls pound on the sidelines, echoing off the familiar ceramic brick walls. Arab is running his eighth pickup game in two hours. The players at this plush, suburban-style facility are a diverse lot — black, Asian, Hispanic, a few of them women. The point guard drives hard to the basket and kicks it out to the arc. Arab nails the trey for the win.
"People try to stop me because they know I'm a three-point threat," Arab says, picking up a half-gallon jug of water. In his last two games he'd shot seven for eight. "They're always like, 'Don't let him shoot! Don't let him shoot!' I always tell them: 'Y'all need to change my name to Don't Let Him Shoot.'"
Arabian Prince is a man of many handles. To his friends he's Arab or 'Rab. Until recently Wikipedia had him listed as Mik Lezan. His real name is Kim Renard Nazel. (Mik Lezan is the semordnilap.) The son of a music teacher and a noted writer, he was born and raised in South Central, the birthplace of gangsta rap and a once-thriving middle-class community that has been devastated by what one African American law professor has called "the crack plague and its festering aftermath."
Like the fifth Beatle, he's the one who walked away.
As Arabian Prince, he's been rapping and producing for more than 30 years. As Professor X, he's a respected electro-funk DJ who often spins his Kraftwerk-inspired EDM in Europe. And at times he still performs as part of the pioneering early-'80s rap group Jimmy Bobby and the Critters, founded by Russ Parr, an early host at L.A.'s first total hip-hop station. Known for minstrel-like antics (sometimes performed in blackface) and the clever, farcical style that characterized the early days of West Coast rappers, Jimmy Bobby rocked the charts with songs such as "Ugly Knuckle Butt," "Roaches" and "One Glove," a satire of Michael Jackson.
Arab's most significant role, however, has been largely forgotten.
Of all the rappers to come out of L.A., none were more influential than the founding members of Niggaz Wit Attitudes. Check out the iconic cover photo of N.W.A's debut studio LP, Straight Outta Compton. The camera looks up from street level, into a huddle of hard young faces that would change forever the world's music — and culture, language and sense of style — with songs like "Fuck tha Police" and "Gangsta Gangsta."
There's Ice Cube at twelve o'clock high, issuing his characteristic scowl. Eazy-E, RIP, is posted up at three o'clock, pointing a gat into the lens. Dr. Dre is to his right, then M.C. Ren, then DJ Yella.
And at nine o'clock, with his trademark Jheri curl dripping fashionably from beneath his ballcap, is Arabian Prince.
Like the fifth Beatle, he's the one who walked away.
On a sparkling blue day along the California coastline, Arabian Prince pulls his silver AMG Mercedes into the double-long parking spot beneath his loft in Marina del Rey. He's lived here for three years. Before that, he says, he had a series of "show houses."
"There was big lawns and gardens, huge upkeep. And the taxes! It was just a waste. I'm always traveling, ain't got no kids, none of that. So I decided I'd rather spend it on stuff I like."
He pats the tail of his 2006 Mercedes. "This one's 700 horsepower," he says. When he's not touring as a rap artist or DJ, or doing special effects — he's worked on movies like theMighty Morphin Power Rangers and The Addams Family, cartoon series like Silver Surferand video games like Crash Bandicoot and Lord of the Rings — he likes to race his cars at Willow Springs International and the Auto Club Raceway at Pomona.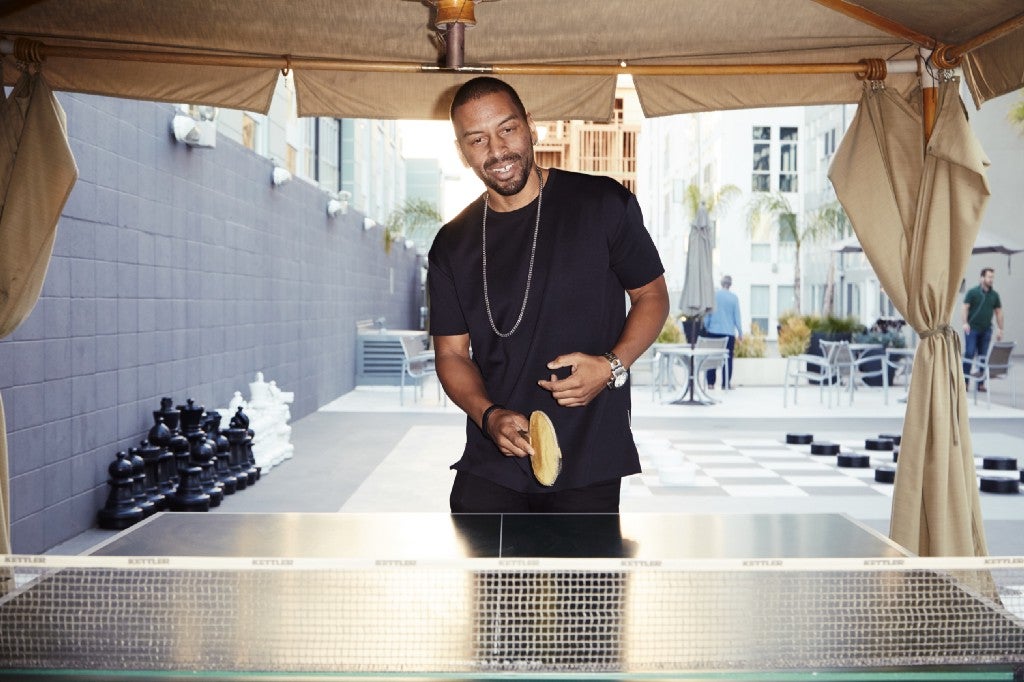 We take the elevator upstairs. The hip, utilitarian glass and concrete loft building provides a panoramic view of the other tall gems that line the marina. We pause to take a look.
Nobody has to remind Arab he's come a long way from the apartment on South Willow Avenue in Compton, across the street from the Immanuel Baptist Church, where he grew up with his mom and stepdad.
His mom played piano in church. His father was Joseph Nazel, a political activist and prolific author, whose books range from noirish Blaxploitation novels to biographies of prominent African Americans. For a period Nazel served as editor of Players, known at the time as Playboy for black men. Nazel sported an afro; he'd come of age politically at the time of the Black Panthers. He lived in a series of book-crammed apartments around Inglewood, Crenshaw and Watts that would later be described as resembling the "atelier of a hard-boiled pulp writer from the 1950s." Upon his death at 62, the Los Angeles Timescalled him an "editor and author of incalculable importance to L.A.'s African American community, particularly to the readers, artists and writers he championed and served throughout his career."
Nobody has to remind Arab he's come a long way from the apartment on South Willow Avenue in Compton, across the street from the Immanuel Baptist Church, where he grew up with his mom and stepdad.
Due to the pacifying influence of the church complex across the street, Arab's childhood apartment was located in a zone of relative calm amid the violence of the crack epidemic. But Arab also spent a lot of time at his grandmother's house, near the infamous Nickerson Gardens and Ujima Village housing projects. At the time, the neighborhood was becoming increasingly violent. Gunshots rang out day and night. Ujima Village had a lake, a symbol of more hopeful times in the neighborhood. Arab remembers having seen bodies pulled from the muddy waters with some regularity.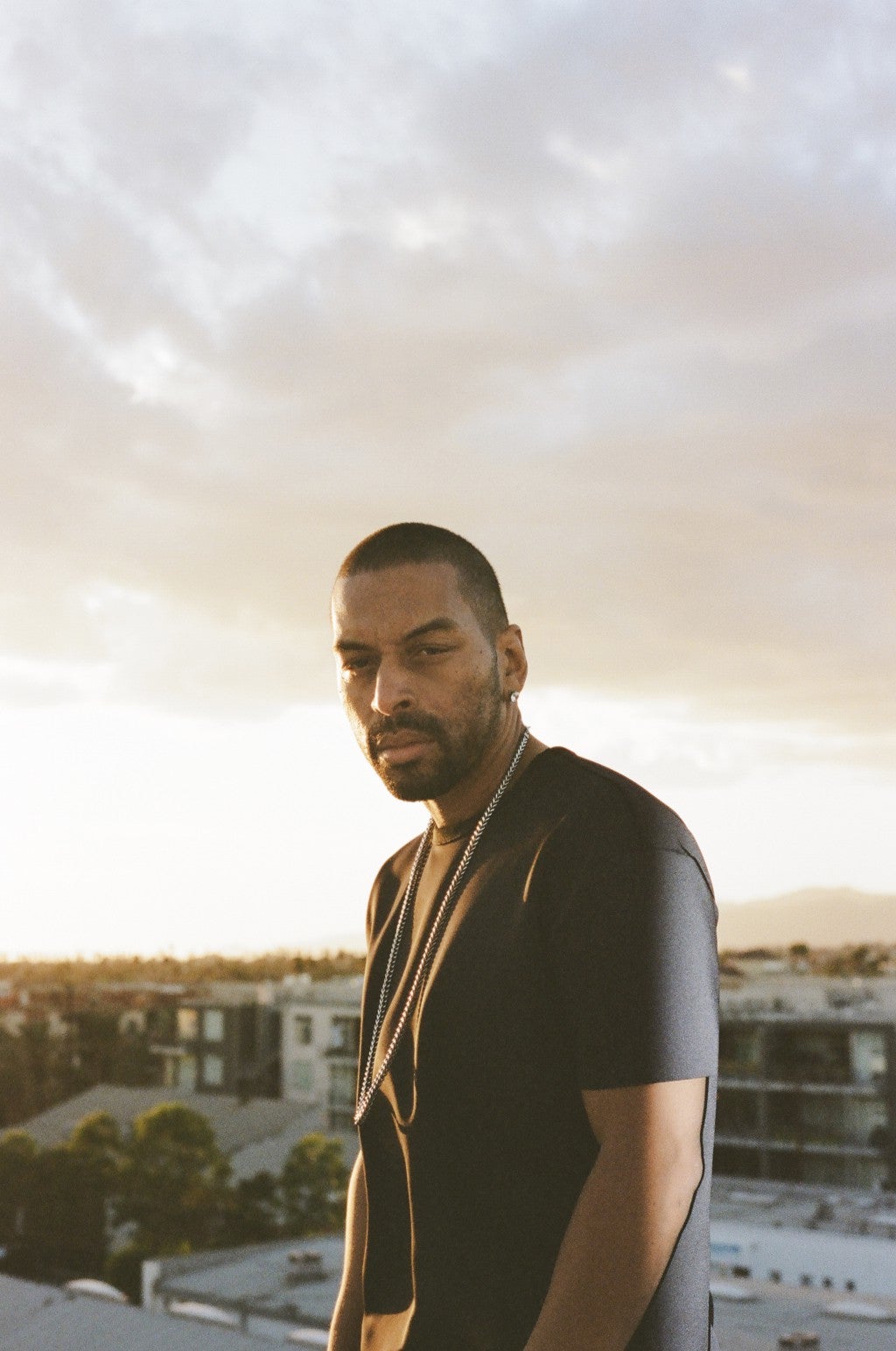 Arab's parents did their best to shelter him. They sent him to Catholic schools; his maternal uncles pushed him hard in sports. "Other kids were in gangs and were acting a fool. They kept me out by making me a football player. My uncles were ex-military. They would fill up duffle bags with clothes, tie 'em to a tree. They'd be like, 'You gonna hit this tree until the leaves fall off.' It was a little crazy, but it made me tough, you know? And I'm glad it kept me out of the gang thing."
When Arab was in middle school, his father had a radio show at KACE in Inglewood, a top urban station at the time. While his dad was on air, spinning jazz and interviewing artists and writers, Arab would hang out in the production room. "I'd spend my time making mixtapes. Before long I was selling them at school and I was like, 'Oh, this is cool. I wanna be a DJ!'" He and his friend Termite began DJing school parties.
"I called myself DJ Prince at first; back in the day, I always used to dress like Prince. That was the thing in the early '80s — either you dressed like Prince or you dressed like Michael Jackson. I used to wear the tight parachute pants, and I had the trim moustache, the whole thing.
"One day I was DJing at a skating rink. I was with Egyptian Lover, that was my boy, still is. This girl comes up to us and asks us our names. And he's like, 'I'm Egyptian Lover.' And I'm like, 'I'm DJ Prince.' She looks at me and goes, 'I always see you two together. You should call yourself Arabian Prince.' And I guess that just stuck." The two still tour together.
Arab's work on the turntables — he was among the first in South Central to add a simple drum machine to his home-built DJ's coffin — eventually led to a gig as a house DJ at the Cave, a popular spot on Lennox Avenue that helped usher in the rap scene and bring together local artists like Arab, Egypt and Uncle Jam's Army.
With financial backing from the owner of the Cave, Arab — by then 18 and a recent graduate of Junipero Serra High School in Gardena — went to Macola Record Company to record a song.
Macola distributed records for early groups like the World Class Wreckin' Cru, Jimmy Bobby and the Critters and the L.A. Dream Team. But the L.A. company made its greatest mark as a sort of self-publishing house for hopefuls — anybody could pay for studio time and make a record. Five hundred 45 vinyls cost $1,000, cash and carry. As it happened, hip-hop's early business model depended heavily on sales out of the trunks of cars.
"Yano was like, 'Listen. Eazy got some money, he wants to get into this. He don't rap, he don't do nothing, he just wants in.'"
Arab's first record was called "Strange Life." The sound, he says, was influenced by the work of his favorite artists at the time — Prince, Devo, Parliament-Funkadelic and Kraftwerk. Soon after, Arab met Dr. Dre. Dre was a member of the World Class Wreckin' Cru, known for their electro funk sound and their purple leather sequined suits. The future billionaire entrepreneur was also doing a lot of producing and DJing, as was Arab, who was working with a girl group called JJ FAD that would eventually score a big hit with "Supersonic."
Arab and Dre did a few DJ gigs together in skating rinks. One Sunday in 1984, Dre and Arab were attending the Roadium swap meet in Gardena, where a lot of artists and DJs bought and sold records. There was a guy named Steve Yano whose booth served as a gathering place and clearing house for the latest musicians and artists. Yano approached Dre and Arab with a proposition: There was this dude, Eazy-E. He might have been a crack dealer at one time. Maybe he still was. In either case, he wanted to get into the music game.
"Yano was like, 'Listen. Eazy got some money, he wants to get into this. He don't rap, he don't do nothing, he just wants in,'" Arab remembers. At the time, Arab says, Dre was driving an RX7 with no back window. "We were like, 'Hey, if he got some money, maybe we can get together and do something cool.'"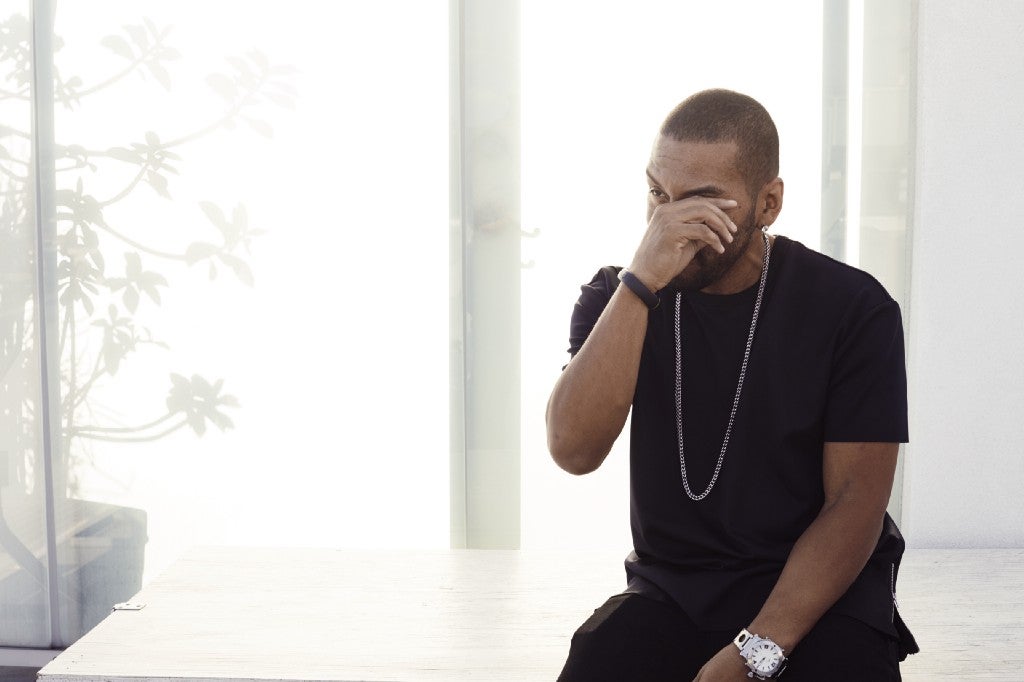 And so it was that the original sextet was assembled. Eazy brought his friend MC Ren. Dre brought Yella from the Wreckin' Cru. Ice Cube was the youngest, clearly a prodigy.
"We started working on all this new stuff," Arab remembers. "We were sittin' in my mom's living room one day, trying to come up with names. And I remember I had said something stupid. I was like, 'Hey man, we should call the album, From Compton With Love and have a bunch of dudes with guns on the cover.' But everybody was like, 'Nah, nah, that's wack.'
"I know everybody who was there probably got their own interpretation of what happened next, but this is what I remember. Nobody just came out and said, 'Hey, let's call it N.W.A' What happened was, somebody had said, 'I feel like a nigga with an attitude.' And we all kind of agreed. And that's when it hit. It was like, 'Oh shit! Let's call it that! We were all niggaz wit attitudes."
In 1987, N.W.A released their first single, "Panic Zone," on Eazy-E's Ruthless Records label. An EP called N.W.A came next; then, a bootleg issued by Macola titled N.W.A and the Posse.
NWA's debut studio album, Straight Outta Compton, dropped in 1988. The record was a revelation and a clarion call, employing gut-rattling beats and raw, journalistic detail. Realistic sound effects like gunshots and squealing tires added a riveting you-are-there quality.
The audacity of the headline song, "Fuck Tha Police," revealed a bitter social and racial animosity that was bubbling beneath the surface some 20 years after the Civil Rights Act. Rodney King's beating by police was still three years away. Michael Brown's murder in Missouri — and the ensuing public outcry — was still a quarter century off. The economic hardships that had led to the thriving outlaw economy of the street gangs — and the thriving military-industrial economy of the government's War on Drugs — had to be addressed. The streets had become a war zone, complete with motorized battering rams. Everybody in the hood knew somebody in jail. There seemed no way out. "There was a lotta niggas with attitudes all over the country," Arab says. "We was just the ones laying it down in the most naked terms."
"I think it was in Detroit where the cops came up on stage and threw flash-bang grenades because they told us we weren't supposed to perform 'Fuck Tha Police.'"
For their first national tour, the group hit the road in a 15-passenger van. ("Everybody drove but Cube. I don't think we ever let Cube drive," Arab says.) The shitstorm that followed is well-documented. There were letters from the FBI, arrests by local law enforcement, concerts canceled or shut down mid-note. "It was crazy. It's still a blur. I can't remember which city was which," Arab says. "I think it was in Detroit where the cops came up on stage and threw flash-bang grenades because they told us we weren't supposed to perform 'Fuck Tha Police.' And I remember flying into this airport and the police were waiting for us. They took Dre away. They took Ice T away — he was on tour with us. They said they had a report that somebody on the plane had a gun. And it was like, Ice T had this gold chain with a little gun on it. It was like some science-fiction shit."
Straight Outta Compton was one of the first albums to carry a parental warning label. Despite a resulting moratorium on airplay, the outraged headlines and frenzied media coverage shot the album to double platinum.
The thuggish behavior of early rap moguls like Eazy-E and Suge Knight — who employed business practices learned in the streets as drug dealers — is no secret. Also well-known are the details of the partnership between Eazy-E and music manager Gerald E. "Jerry" Heller, a longtime industry insider who'd stewarded Elton John and Pink Floyd on their first American tours. He recently sued the producers for his portrayal in the hit biopicStraight Outta Compton. Eventually, financial disagreements brought the group to an end in a hail of diss-tracks and lawsuits.
"It was like the old Cadillac Records thing, man. Bottom line, we weren't getting paid," Arab says. "We were selling like two to three million records, and all we was getting was a little check for like 30 grand and a Suzuki Samurai. See, I had my own solo records before N.W.A. I had an apartment and a car. I was producing. I knew how stuff worked. I knew what royalties were; I knew that if I sold this many records, I'm supposed to get this much money. And I knew that every quarter that was supposed to happen again. But it wasn't happening. I would go to Eazy and say, 'Can I get paid?' And he'd be like, 'Talk to Jerry.' So I'd go talk to Jerry, and he'd say, 'Talk to Eazy.' It was just that back-and-forth thing. Finally, I was like fuck it, you know what I'm saying? I bounced."
When he told Cube he was leaving, Arab remembers, "At first he was like, 'Man, you stupid for leaving.' But I told him, 'It ain't no hard feelings. It's about business. We out here getting chased by police and getting arrested, and getting in fights with fools, and I'm not getting money. I got bills. I got stuff I need to do. I'm tired, I don't need to beg.'
"It was sketchy, man," Arab says. "I wish it could've gone a different way."
Seagulls screech and soar in the air above the outside terrace at Killer Shrimp in Marina del Rey. Million-dollar boats bob along the docks.
Years ago, when N.W.A first went out on tour, Arab brought along the latest object of his fascination — an early laptop. His first was a Texas Instruments T199. After that, he bought a Tandy from RadioShack, then a Commodore 64, and so on. In his spare time, he taught himself code. As the computer revolution came to the entertainment business, Arab used his hip-hop connections to get in on the ground floor.
After working for a time on computerized special effects for movies, Arab eventually scored a job at Fox Interactive. "I worked on 30, 40 video games," he says. "At one point I was heading up some of the Barbie titles. I would have all this Barbie stuff sitting on my desk — like a Barbie boat and a Barbie car. "People would walk by and look at me. I'd get all hard and be like, 'What? You got something to say about my Barbies?'"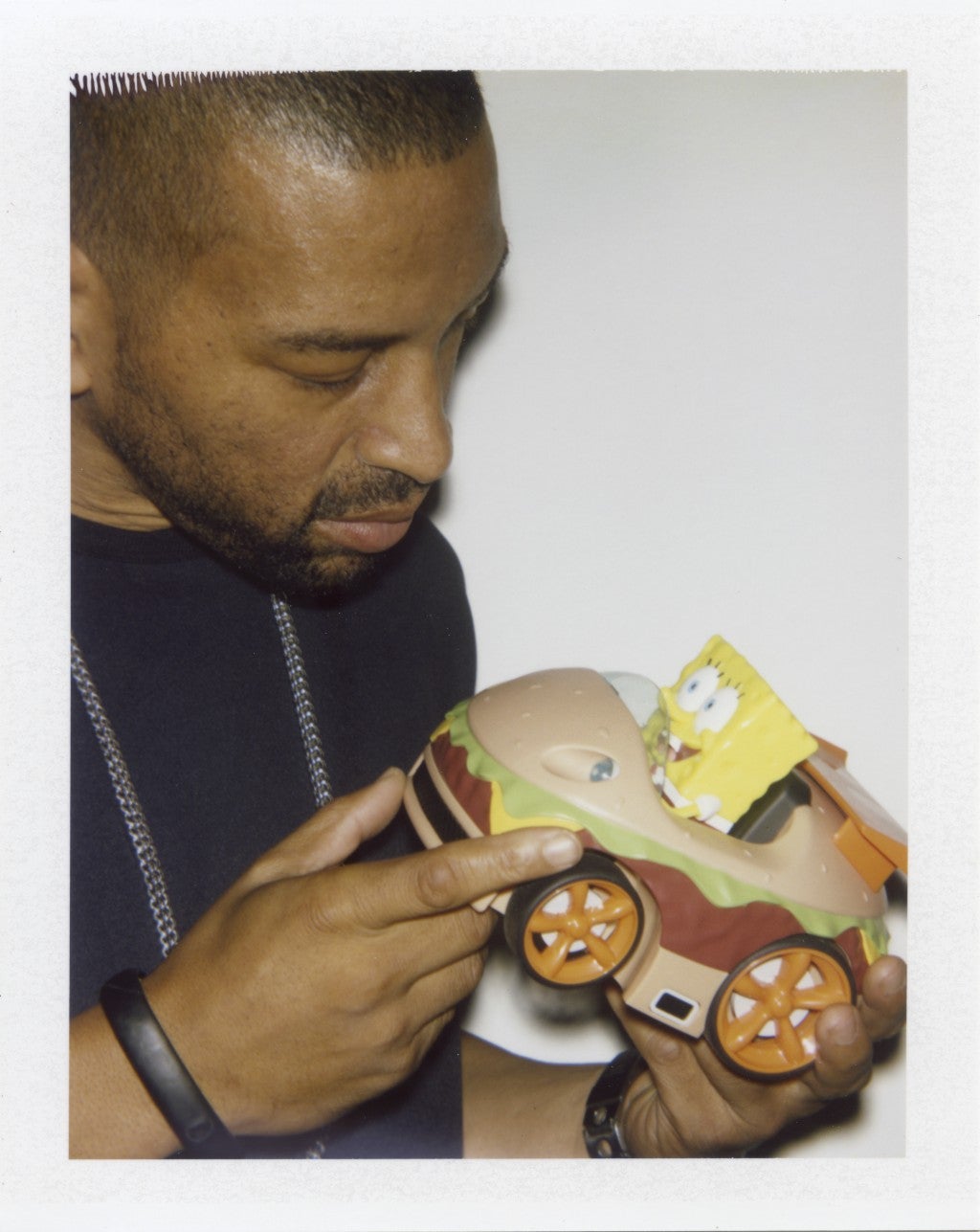 At the moment, Arab says, he's involved with a startup that will provide content for virtual-reality programs and 3-D games. His apartment is stacked with boxes of hardware that will enable him to design software to go with the new VR goggles and other applications that are quickly coming to the market.
"I have a game on my phone right now," he says, holding it up. "Someday, you'll be able to play it on this table, a 3-D game. We could be shooting at holographic zombies and all that…. And it looks real. You can use these special glasses, or someday you will just be able to use your handheld or wrist device. That's gonna be the future."
As our bowls of killer shrimp slowly empty, I go ahead and ask the obvious: "Are you ever sorry you left N.W.A?"
Arab's answer is immediate. "My mom always taught me to be humble, so I know what I accomplished with the group, I know what we did. If there's a lot of people who don't know what I did, well, they just don't know. But it seems like even in the group, some of the cats, they trying to change history a little bit. To make it more favorable, you know what I'm sayin'? To reinvent who they are. I don't care that I dressed like Prince back in the day, or that Dre dressed in his glitter stuff with the Wreckin' Cru. That's what we did. If it wasn't for those things, we wouldn't be here.
"People would walk by and look at me. I'd get all hard and be like, 'What? You got something to say about my Barbies?'"
"I've never wanted to be the guy over all these years to be like, 'Oh he's whining. He's complaining. He's got sour grapes.' Because I'm successful. I've always been successful, I was making records before any of them. I've always done my own thing."
Arab admits he was a bit taken aback by the particular version of history put forth inStraight Outta Compton: "They left me totally out," he says incredulously, after seeing the movie twice. "I think I was there in real life for more than half of the scenes. I kept wondering, 'Did I go to the bathroom during this scene? Was I behind the couch picking up popcorn?'"
Arab laughs at his own riff. "It is is what it is," he says. "I am still cool with everybody in the group. When I left, I never had no beef with nobody."
Arab says he still hangs out with Yella. "I actually helped Yella — I helped him get back into the DJ thing because he was doing that porn thing for a while, then he got married and his wife was like, 'Nah, you can't do this.' So I talked to Yella. I said, 'Man, you need to get back out there and start DJing again.' I took him through the conventions, hooked him up with some of the companies, so he's back out there."
He talks to Ren all the time, he says. "We cool. I don't talk to Dre as much, or Cube as much. Over the years, I might have bumped into them or talked to them every now and then. We don't keep in contact. They're doing their thing, but we still cool. I'm still cool with everybody. I'm even still cool with freakin' Jerry Heller. I don't care. I've done my thing. As a grown man you've got to accept the ways certain things happen and then move on, you know what I mean? I wouldn't change nothing."
Sometimes, Arab says, he'll be walking down the street and people look at him funny. They're like, "Did I go to school with you? You look familiar."
Arab holds a palm up in the air, the universal symbol for "stop."
"I ain't going there, you know what I'm sayin? That shit is over."