Despite endless features and upgrades, most apps only do one thing well, and there's absolutely nothing wrong with that. The majority of the apps I keep on my phone (and use daily) are there because they continue to do that one thing very well.
This is why I love Ham App, which does one thing and will only ever do one thing only: it helps people get tickets to see the Broadway smash hit Hamilton.
Why would you need an app just to get tickets to Hamilton? Well, in case you just arrived from 2001, I'll remind you that it's nearly impossible to get tickets to Hamilton — both financially and practically—since it's technically sold out for the rest of its dates (and you would have to be rich to buy a ticket from a resale site at this point). There is one way, however, that you could see Hamilton today: win the Hamilton "digital lottery."
To do so, you have to enter your contact information into the Hamilton website every morning at 10 AM EST. If you wake up every morning thinking you might want to see Hamilton tonight, this is what you'd do.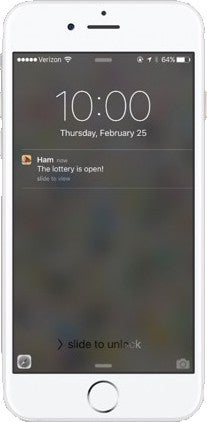 Enter Ham App: Every day, it enters the Hamilton digital lottery on your behalf. First, with a reminder and then, by auto-entering all of your information onto the site.
That's it.
Hamilton fan and founder of a shopping app called Shophood, Lukas Thoms created the app after seeing Hamilton for the first time and immediately wanting to see it again: "Since it's sold out for the rest of the year, the best chance I have is to enter the lottery. After going through the cumbersome and user-hostile lottery process, I realized I could make it much easier to enter the lottery. So I did." (Why he then made this app public for the rest of us to use—and essentially compete against him for these Hamilton tickets—remains unanswered, but suggests he's a pretty cool guy.)
There's a million things I haven't done (heh), but will I ever get to see Hamilton on Broadway? I doubt it: The odds are already stacked against me. But with Ham App, the app that does one smart thing (and does it well), there's a slightly greater chance I might.