On the eve of the first Democratic debate of 2019, Charlotte, a 23-year-old in Connecticut, mulled over the odds of a big performance from presidential candidate Andrew Yang. Yang had not grown his presence in national polls much over the past few months, but the debate stage looked like the natural setting for the entrepreneur-turned-presidential hopeful, whose campaign agenda overflows with policy ideas. "I think it'll be a critical moment for him to assert himself as someone who could be taken seriously for president," she wrote to me on Reddit. "I'm still hopeful!" 
I had spoken to Charlotte in April, amid a rising crest of a fandom (nicknamed the #YangGang) fueled on memes and Yang's articulate (and viral) appearance on comedian Joe Rogan's massively popular podcast. Here was a fringe figure who was being profiled by mainstream outlets like the New York Times (who dubbed him the "Internet's favorite candidate") and Politico, winning ears by proclaiming a proposal to give $1,000 to every American, every month, tax-free.
It was a simple, giddy idea ripe for memeing, and the memes that arrived were as weird and diverse as the Yang Gang itself, ranging from oddball shitposts to existential cynicism to vaguely cringeworthy shows of affection. "Yangwave," a riff on vaporwave complete with hot-pink Yang hats, became popular for a minute. So was the idea that the Yang Gang could rocket Yang into the public consciousness if he got a shot to prove his mettle on a national stage. 
The moment came on the evening of Thursday, June 27th. Yang took the crowded stage alongside nine other candidates, including household names like Joe Biden and Bernie Sanders. And, just like that, Yang disappeared. 
Though he had been polling similarly to debate peers like Pete Buttigieg, Eric Swalwell and Marianne Williamson, all three of those speakers buried Yang for time on the mic. In fact, nobody spoke less than Yang. Neutral observers and Yang Gangers alike wondered what was happening. Yang hardly seemed to care he was there, at least gauging by the amount of times he offered his voice. "It feels like Andrew Yang is gonna leave early to beat traffic," comedian Aparna Nancherla cracked on Twitter in the middle of the debate. 
As the debate dragged on with plenty of noisy interruption and spirited speechifying, the Yang Gang began to despair. Their meme king had energized his fundraising pool, flying past the 65,000-donor mark required to qualify for the debates well before a May deadline. Over and over again, Yang referenced the debates on Twitter as not just a milestone but a critical proving ground. 
As soon as the debate came to a close, Yang's fans collapsed into an uncomfortable mix of disappointment and what-ifs. "Tonight's debate would have been Andrew's chance to seriously break out. The mods didn't give him much screen time but that was to be expected. Andrew should have butted in and interrupted the other candidates as much as possible," argued redditor ShayaVosh on a top-voted post in the r/YangGang forum. "Debate is not a place for politeness, it's a gladiator pit, and if you want the crowd to cheer for you then you have to get bloody. Andrew wasn't willing to do that and he lost his chance to make an impression because of it."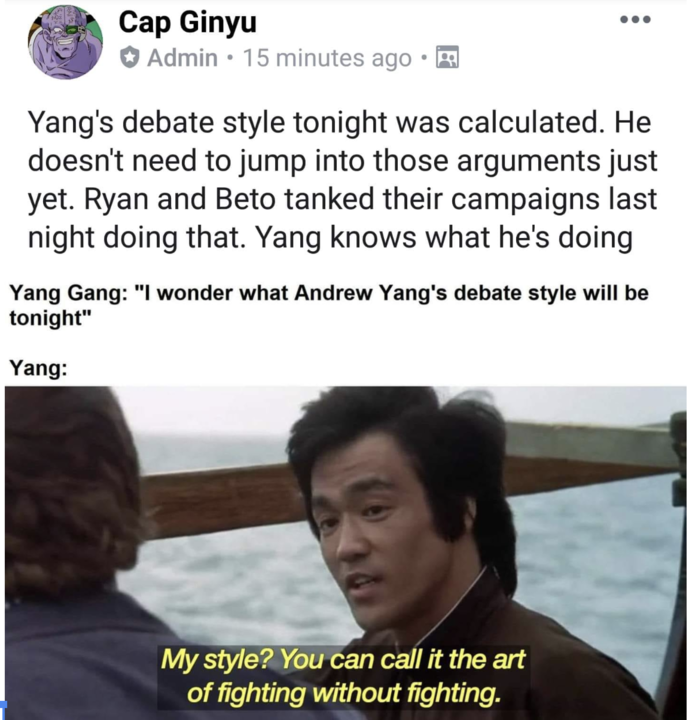 Others tried to meme their way into a justification for Yang's non-confrontational approach, spreading messages of reassurance on Facebook, Twitter and beyond. 
I asked Charlotte what she thought of Yang's performance, and she admitted that she had missed it ("I was moving, and didn't have internet set up yet.") But she also brought my attention to a significant plot twist: "I'm preemptively disappointed, having seen the internet meltdown over the fact that they had his mic turned off so that he could not speak unless directly spoken to."
It was the perfect storm for Yang to rocket back into the mainstream discussion, and Yang indeed accused NBC of turning off his mic for much of the debate, despite other speakers like Kirsten Gillibrand clearly being able to interrupt and be heard even when it was not their question to answer. "I just started talking, being like, 'Hey I'd like to add something there,' and my mic was, like, not on. I was talking and, like, nothing was happening," he said in a video to supporters. 
NBC denied this, but Williamson, the author, backed Yang up, claiming her mic had also been cut off. Across the internet, the Yang Gang's outrage flared, baking up conspiracy theories about how NBC was trying to secretly censor Yang (including by leaving him off a debate graphic) and pointing to campaign contributions Comcast, NBC's parent company, had given to senators who were now competing against Yang in the primary race. It was the perfect storm that gave the Yang Gang new energy: Fans were mad, they were opinionated and they were ready to meme about it.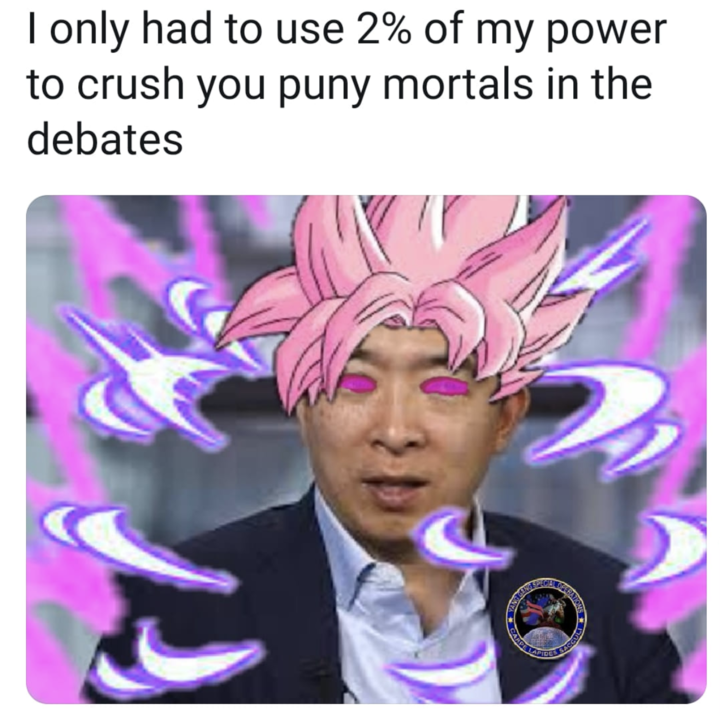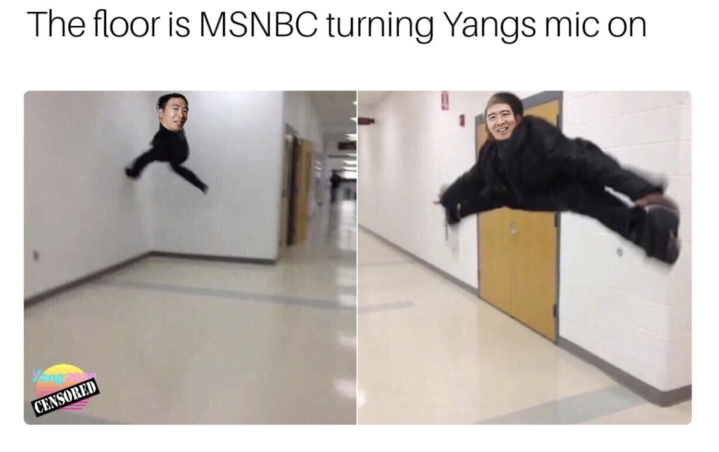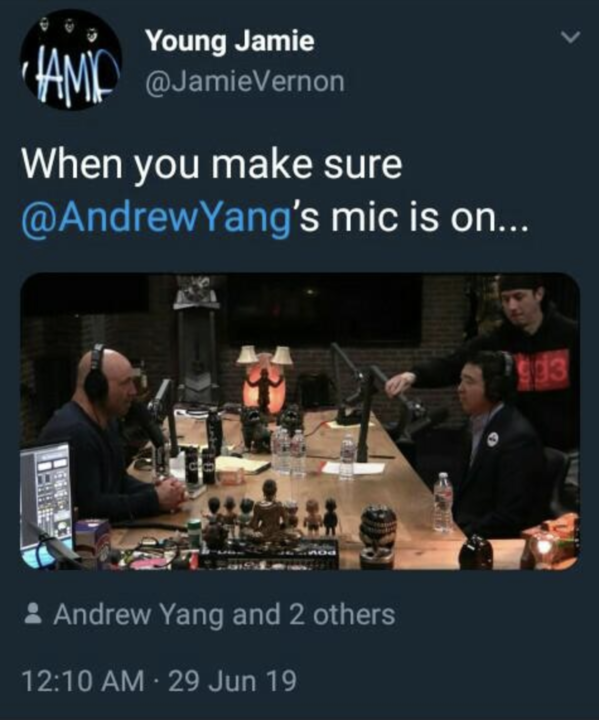 The mic-off controversy helped propel a trending hashtag on Twitter (#LetAndrewSpeak), got Yang on shows like CNN's Outfront, and also received mention on the late-night circuit. The day before the debate, I spoke with Don Caldwell, managing editor of Know Your Meme and an expert on Yang Gang memery. Yang's height of internet popularity and activity happened shortly after his Joe Rogan podcast appearance in March, and both his visibility and the memes about him have waned in the months since, Caldwell says. "To get Yang's memes back to the cultural forefront, I think some kind of memorable moment during the debates that grabs everyone's attention and is able to get clipped and spread on social media would bring his presence back into the spotlight." 
The idiosyncratic shitposts and even oddly racist content that exemplified the rise of Yang Gang culture has faded, and it's not just Google Trends data that suggests it. The comments sections are stagnant on the pages of YouTube videos made by Yang Gang members like Panther Den, whose videos were widely shared on Reddit in March and April. Fringe venues like Ancapistan, an often antagonistic Facebook forum dedicated to troll vibes and anarcho-capitalism, have faded as spots for fresh Yang memes. I ask D.G., a redditor in Nigeria who fell in love with Yang through the memes first, what he made of the campaign in the middle of the primary cycle. "There are still memes, but they're fewer in number. The meme cycle has largely left him behind," he writes. "But his name recognition seems to be rising, and his polling has improved as well. I'm in it to win it now, I guess. More committed." 
This fits in with Caldwell's own assessment of the lifecycle of memes in 2019, which is to say, "brief." "Yang has challenging waters to navigate in that area, too, because being a meme candidate can be difficult when you're straddling the line between being taken seriously versus just being a joke," he adds. 
So maybe being the center of a controversy about his mic being turned off — and refreshing the age-old dichotomy of political outsider fighting the media-political complex — is exactly the kind of serious but memeable content Yang needed. Allegedly, Yang earned 100,000 new Twitter followers and new highs in website traffic following the debate. No matter that other polls showed the Dem voters being underwhelmed by Yang and walking away with a more negative impression than before the debate. 
Consider it a twist on the old adage that any press is good press. Even despite hardly speaking on the stage on which his fans expected him to shine brightest, Yang, and the Yang Gang, have reason for a modicum of hope. And there's probably some more fresh memes to come, too.