"Oh, he's part of the bride's side? Sure, okay!" the church coordinator said after a slight pause, delivered like someone might say, "I don't really like olives, but you should totally order them." This was during the ceremony rehearsal for my friend Cara's wedding. Cara was the first of my college friends to get married, and hers was the first of three consecutive weddings that I attended as a bridesman. Not a groomsman. Not a bridesmaid. A bridesman. In fact, I've only ever attended weddings as a bridesman.
The term sounds like something a well-intentioned-yet-politically-incorrect relative may use to describe a partner in a gay couple that's about to be married. But "bridesman" designates a man who is part of the bridal party (see also "groomswoman or groomsmaid" for a woman among the groomsmen). The words feel made for the hashtag era, but for an occasion that's both deeply personal and rooted in tradition, a trend means more than simply a social media forecast.
It's not unusual for the rituals of marriage to alter in accordance with the sociocultural landscape of the time — be it the engagement ring as a sign of promise during wartime separation or ceremonies moving outside the church during 1970s hippie culture. So for the current generation—which has seen a significant rise in trans visibility in popular culture, legalized same-sex marriage and a female presidential frontrunner—it seems appropriate to embrace a more liberal view of gender roles. If the trend continues, then more and more men will be invited to the bride's side of the party (bachelorette celebrations and all), and as someone with a perfect track record of bridesman wedding participation, it is my duty to pass along guidance not only to future generations, but perhaps even for mankind herself.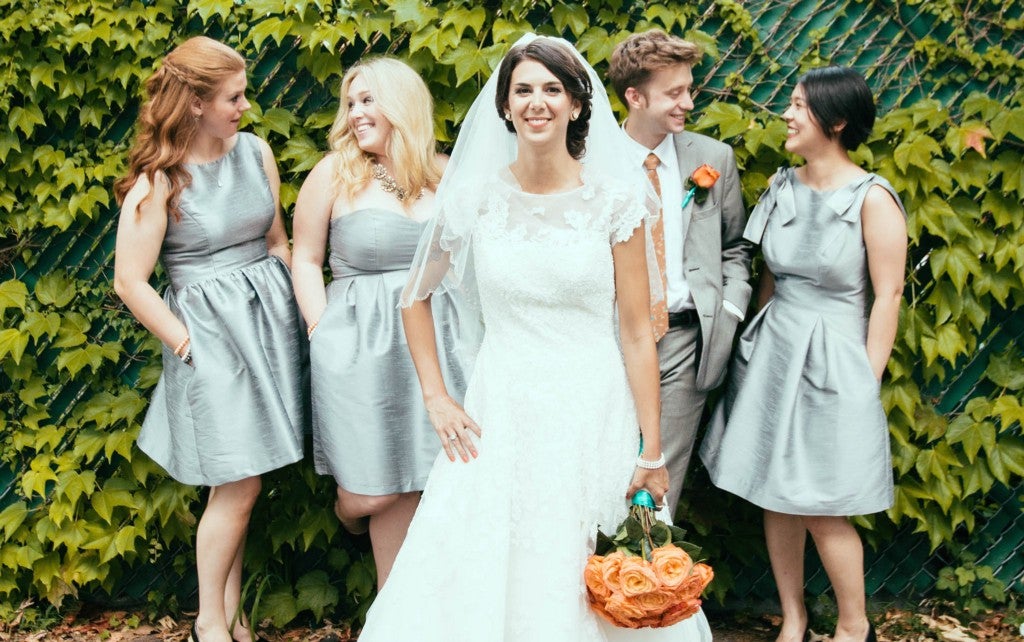 Because Cara's wedding was the first in our social group, everything was a first — making it the perfect learning landscape for this budding bridesman. Bucking the gender tradition of a wedding party doesn't mean the rest of the wedding is akin to an avant-garde theater production, and Cara's was, for all intents and purposes, a very traditional wedding. Probably the first lesson you will learn in any wedding party is that the event does not begin and end with the day of the ceremony, and my first official duty as a bridesman came at a bridal shower weeks before.
When crafting an argument for the disruption of gender traditions in a wedding, the bridal shower is an easy target, and from here on my soapbox (made entirely from Judith Butler books and Daria DVD box sets) I'm inclined to point out that women no longer need a special event to prepare them for a domestic life, appliance-by-appliance. With that being said, and my soapbox crumbling under the weight of my liberal guilt, Cara and her fiancé were finishing up the last year of their life abroad so they actually needed household items to start their new lives in the States. A bridal shower also serves as another excuse for family and friends to gather and celebrate the bride, and at a bridal shower there's a good chance those friends and family will be entirely female. But being comfortable in a group of women is an essential aspect of the bridesman job, and not a bad life skill to have regardless.
Cara had already prepped her family for the concept of a bridesman, assuring one of her aunts that, no, I would not be wearing a dress (which would be ridiculous anyway because I could never have pulled off that A-line silhouette). To be fair, the novelty of my presence was less to do with being the only boy and more to do with being a friend who hadn't met many of the family members. Additionally, I was one of the only non-family members of the bridal party in attendance so it was important that I carry on the very crucial bridal party role, gender aside, of providing temporary relief and a shoulder to scream on when the bride experienced family overload.
While bridal party duties certainly exist far beyond the day of the ceremony, they are the appetizer for the entree (meat, fish or vegetarian) that is the main wedding weekend. Since I've only experienced them as part of the bridal party, weddings have always been a two-day affair for me, with the traditional format of a rehearsal and dinner the day before the official affair. The rehearsal is sort of like the a run-through of the world's oldest play that is constantly being performed by a brand-new cast. When it's announced that a man will be performing the role of a bridesmaid, I've found the news is met with various degrees of, "Okay, unexpected, but we have a show to perform so let's get to it. It's time to practice avoiding Uncle Billy after his third tequila soda."
Wedding-day access to the bridal suite, where the rest of the party rotates between hair and makeup, is by far the most exciting and confusing aspect of being a bridesman. My friends and sister have all respected me too much to ask if I wanted my hair and makeup done, but know me well enough to know that I still wanted to observe. The atmosphere is a mix between beauty salon and slumber party. My job, along with the rest of the bridal party, was to ensure the bride is "feeling okay?" and repeatedly assuring her that we were all "so excited!" Performing these duties and taking advantage of the free champagne and hummus spread are not mutually exclusive. As I learned, cummerbunds are essentially Band-Aids for bloating.
Additionally, the hair and makeup artists who arrive at ungodly hours are as talented at small talk as they are at the professional tasks at hand. A bridesman's place in all this is as the supportive observer, occasionally dropping a cheeky reference to how easy it is to get ready as a guy (which may be comparatively true, but doesn't mean we are devoid of vanity or image issues). At one wedding, after getting to know the aforementioned champagne, I ask one of the makeup artists if she could sneak me in to correct a small pimple. With her airbrush gun cocked, she smiled and said, "It doesn't work like that."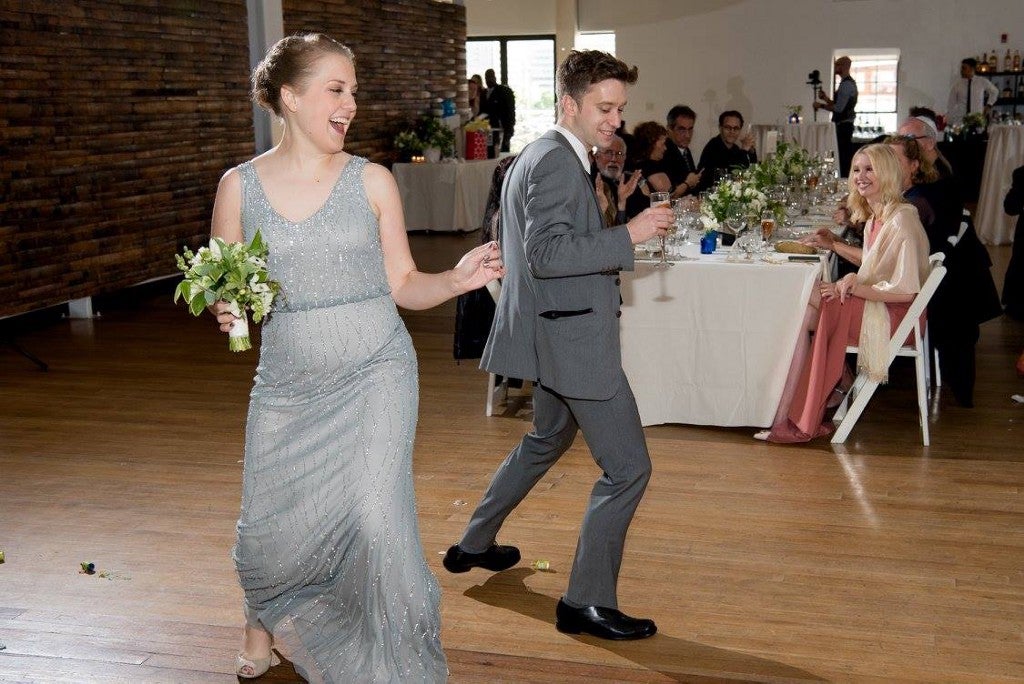 Because there is very little required of you as a bridesman during the actual ceremony — never have I been entrusted with holding the bouquet, never have I smoothed the train of a dress — its very easy to take what little responsibility or role you do have overly seriously. Even smiling is an activity that can easily be overthought. During each bridal photo shoot I smile until the act is entirely foreign, trying my best to mimic the human emotion "soooo happy for you." Hand placement is another minute detail that carries grave consequences when overanalyzed. You will be given no bouquet as a bridesman — nor a prop football to remind attendees of your masculinity. And be advised, putting your hands in your pockets may be deemed too casual a stance for the occasion. I've also tried cupping them in front of me, resting elegantly on my bladder. At my sister's wedding I placed my hands behind me as if in handcuffs — appropriately thematic, at least I thought.
But the bridesman's main responsibility, the one he has been "hired" to do as well as the only reason to take the job, is to celebrate and support his bride. I've been lucky enough to stumble down the aisle, grinning like a Chrissy Teigen meme, in support of three brides, doing incredible work in the realm of making my brides look good. In an era when we've embraced that the stars of a wedding can be any gender, it feels arbitrary to require that the supporting cast adhere to traditional gender rules. But societal shifts aside, the cast is still determined by those actually taking the vows. If you're lucky enough to be invited by a sister, friend or friendly stranger, you should lead by example by saying, "I do."