The scent of gas station air freshener is often used to try and mask the stench of cigarettes. But inside this fluorescent-lit, $55-a-night motel room along Route 66 in Barstow, California, the two odors combine to create a putrid tang that smells the way radioactive green smoke looks. Two of the walls are adorned with claw marks, likely human, etched so deeply you can see the drywall bleeding through. A strand of hair in the shape of a noose dangles near the center of the lower-than-average ceiling like an unfinished dream catcher. None of this seems to be an issue for the five or six large, black flies that are loitering near the bathroom fan which, when turned on, sounds like the screams of something alive being hacked to death by dull propellers.
Like the bratty voice of many of its Yelp reviews, the overly dramatic description above is obviously designed to make you believe the absolute worst about the place. But it's true that this motel room makes a jarring first impression, especially for a bourgeois kid who's never stayed in a roadside inn before.
So here's a more considered impression: The kingsize Tempur-Pedic bed largely makes up for the fact that the smoke detector has been ripped off the ceiling. A wooden desk, paired with two sturdy wooden chairs and a 40-inch flat-screen TV mounted to the wall, help distract attention from the remnants of something red that's been splattered and smeared against the drapes. The plumbing is ace, the water pressure formidable. At first glance, the white sheets appear white enough and without cigarette burns — even if they do ultimately reveal a pearly-white creature crawling along the pillow that will keep me up until the early morning, Googling tutorials on how to spot bed bugs.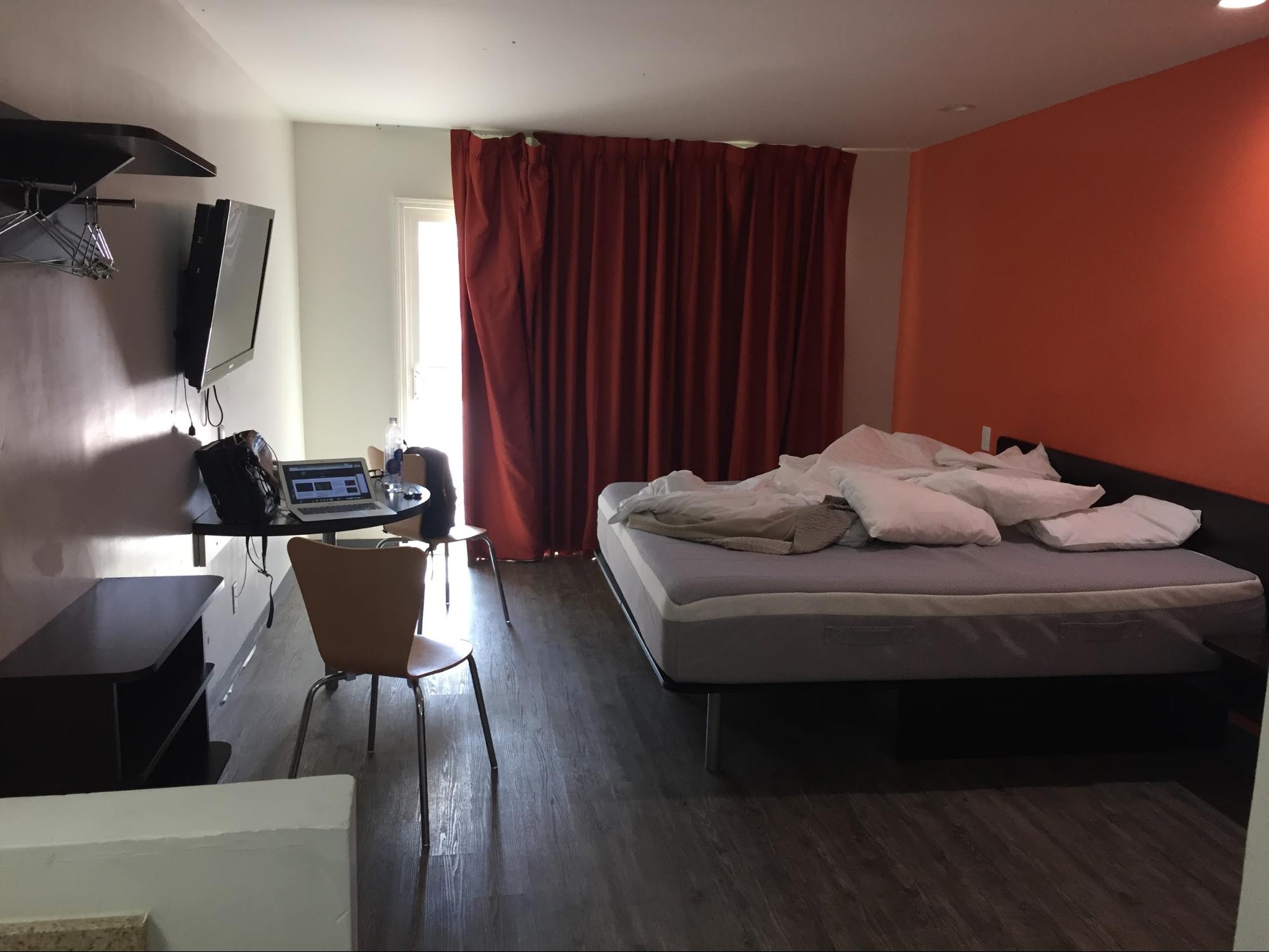 Whichever view I choose to take, though, the truth is that I ultimately have the luxury of choice. On a working road trip to see how motels are surviving in a world of Airbnb, Vrbo and the like, I travel to four different motels over three different nights. I certainly don't have to stay here, but for many, that's not the case: As I soon discover, these motel rooms, in addition to serving their original purpose as roadside lodging for motorists, also serve as shelters, a last lifeline for people and families with no place else to go.
"It's pretty nice," Jonathan, a 36-year-old father of three, tells me as his visibly pregnant wife, Yumi, takes a single drag of his cigarette before passing it back. When it comes to motels, Jonathan and Yumi understand the difference between a good motel room and a bad one — not surprising, considering they've been in and out of them for the past three months. "The Days Inn, where we stayed before, was nicer, but they're a little pricey," Jonathan adds.
Christopher Dum, an assistant professor at Kent State who spent a year in a motel listening to people's stories, puts the room in perspective when we talk a few days after I've left the Motel 6 in Barstow. "If you're in a homeless shelter sharing a room with 20 other people and you didn't have a sense of privacy, you come to this motel," he says. "While some people might think it's a really shitty place to stay, for you, it's providing all those things you didn't have in your previous situation."
Back at the motel, two shirtless boys in diapers, their skin the color of wet desert sand, linger in the shadow of Jonathan and Yumi's motel room doorway. They smile before they wave and without their parents urging them to do so, they introduce themselves, briefly stepping out from underneath the entryway and into the blaze of the LED floodlight casting an incandescent glow on the parking lot.
"It's a burden on the kids," says Yumi. "Sad thing is that they're kind of used to staying in different motels. We have a scooter, so whenever he [Jonathan] does side jobs, they usually have a parking lot for them to play in, or we go to the park while he does his work. YouTube is a savior."
In the adjoining room, a woman's eyes watch over us, most of her face concealed behind drapes. "Don't worry about her," says Jonathan. "She's in a similar situation, she has two kids with her. She's probably just worried you're with social services. There's a lot of that around here — people getting screwed out of their place. It has a lot to do with corrupt landlords."
Yumi tells me that she knows that the motel life is "a bad situation" for her kids. "Their childhood isn't much of a childhood," she says. But she also knows things could always be worse. "There's a lady that was in a similar situation, but something happened with her boyfriend and she was living out of her van in the parking lot here. That's pretty common, too."
Of course, the motel hasn't always been a refuge for the homeless. These uniquely American lodgings were designed to be automobile friendly stops for families driving through the endless countryside, most being built after World War II, but before the Interstate Highway System had been fully established. "At night, they [travelers] found motor courts – no longer isolated cottages, but fully integrated buildings under a single roof – lit by neon and designed with flair," reports Smithsonian Magazine. "They would soon be referred to as 'motels,' a name coined by the owner of the Milestone Mo-Tel (an abbreviation of 'motor hotel') in San Luis Obispo, California."
These days, though, using a room designed for a simple overnight rest stop as a home for those teetering on the edge of homelessness is increasingly the new normal. In 2015, writing for the Los Angeles Times, Joe Mozingo reported that the motels in San Bernardino county — one of the poorest counties in California and which Barstow is a part of — have gone from "boasting a cheery coffee shop, a heated pool, valet parking and palm trees," to becoming a "way station for broken people in a broken city."
Ana Gamiz, the director of policy and public relations for the Housing Authority of the County of San Bernardino, says that motels are increasingly being used to house the homeless, since there's a lack of resources and permanent housing to deal with the homelessness crisis. "We need something to house families immediately and motels are the quickest way to provide a temporary shelter for a family," she tells me. "Our goal is to get them off the street and stabilize them while we try to leverage other resources to help them further." Though Gamiz doesn't have exact figures on how many homeless people are resorting to this, she says that between January 2015 and March 2019, approximately 2,100 families, including 5,600 children, applied for housing support in San Bernardino county. "Of those 2,100 households, 1,143 households (3,600 children) were placed in permanent housing." In other words, it's possible that in San Bernardino County alone, there are nearly 2,000 kids still temporarily staying in motels and the like.
It's not just happening in California, either: For many other states, the motel is likewise the unofficial policy respite for a city dealing with a lack of affordable housing. "Tiffany and her fiancee Mark Maraccini have been living in the Starlight Motel in Wareham, Massachusetts, on and off since 2009," Al Jazeera reported in 2016. "Like many considered homeless by the government, the family lives in a motel because — at $200 a week — it is cheaper than a normal apartment, and they have bad credit."
According to Dum, this may be why one of the biggest misconceptions about motels is that they're a haven for crime, "and all this sort of disreputable behavior that goes on," he says. "I mean, there certainly is criminal behavior, but it's not like you're going to walk into a motel and get shot or stabbed or something like that. I think people associated that with this very seedy existence and lifestyle, when for many people, it's born out of necessity."
Standing behind the thick glass enclosure in the motel's main office, the young Indian manager — who introduces himself as Nick, and whose family owns the establishment — confirms Dum's point. "I have cameras and sensors in the office to let me know if anyone walks in," he says. "But it's mostly safe."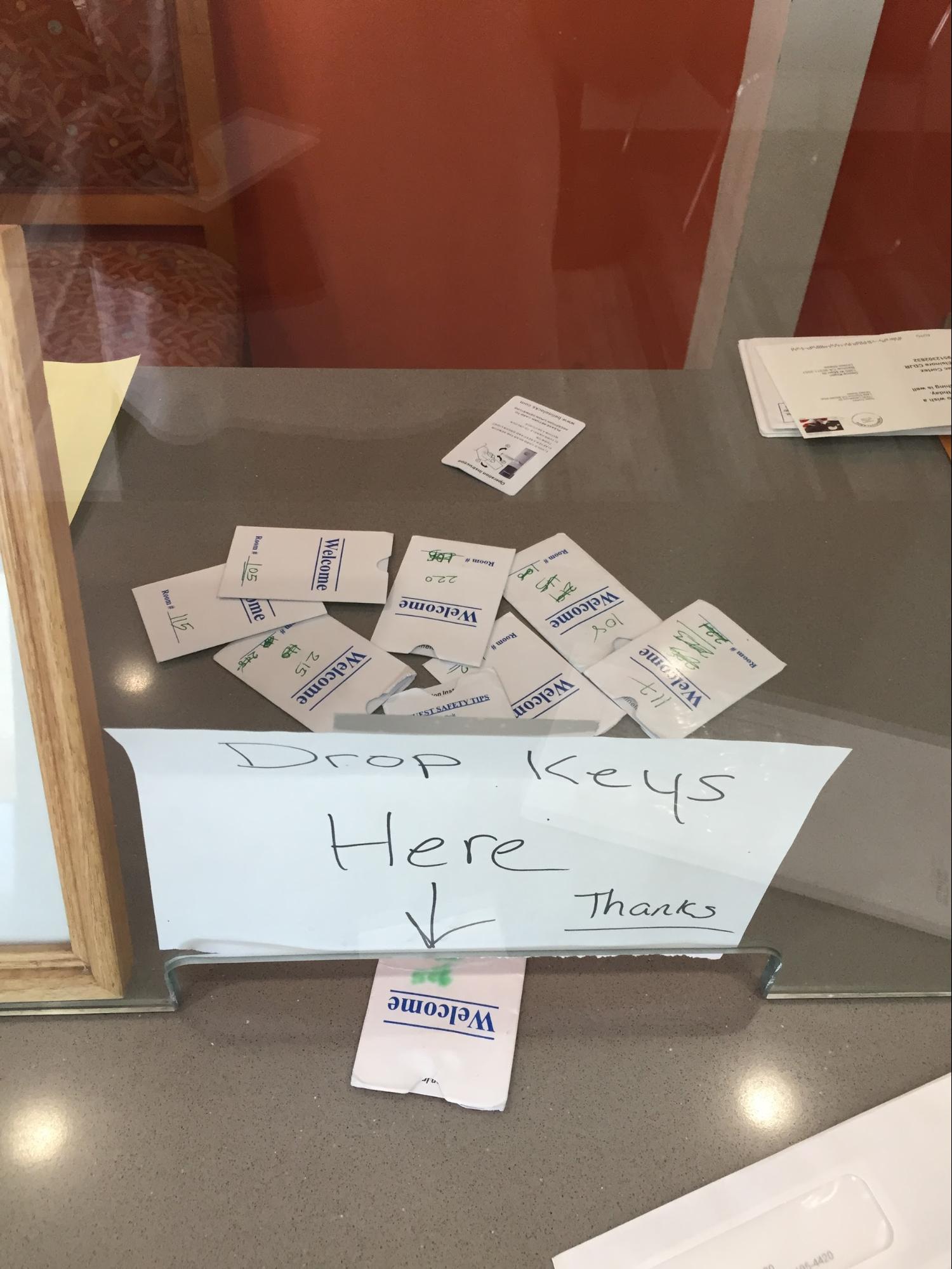 By 2 a.m. the following day, the Motel 6 parking lot is nearly at capacity. The ominous screech of the Sante Fe train line passing through Barstow reigns over the city. Seven hours later, all but four cars still remain in the motel parking lot. "We'll be here for at least one more night," remarks Jonathan as he walks back from his car with a scooter in his hand. "I have to go look for a job."
*****
Standing in the shadow of the Hooters Casino in Las Vegas, nearly 160 miles northeast of Barstow, is the Motel 6 Tropicana, a vacationer's lodge offering thrift-resort serenity. The pool is surrounded by palm trees heavy with crows. Sitting under one of the umbrellas, a middle aged man with leathery skin and black gas station sunglasses strokes the arm of a woman with platinum blonde hair: I take her to be a sex worker who's temporarily managed to evade motel security, since she is shortly escorted out of the pool area by two men with walkie-talkies. Nearby, two women wearing hijabs watch their kids play in the pool while an older man swims laps.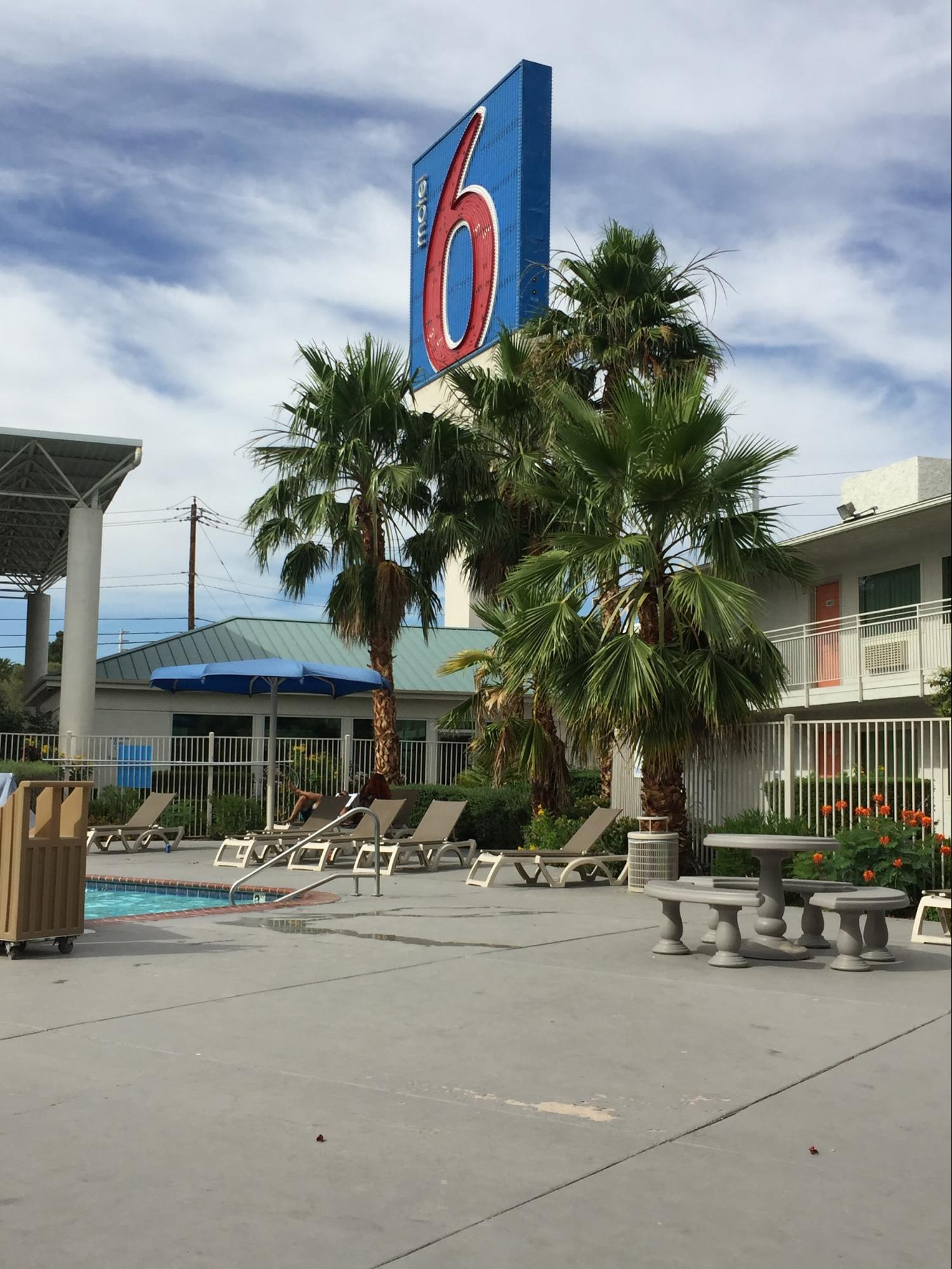 If motels were drugs, the Motel 6 Tropicana would be considered a gateway, a destination categorically opposite to the abject motel of the popular imagination. Sure, when compared to the seductive chambers along the Las Vegas strip, this humble abode seems like the gas station-themed two star resort that it is. But when your previous place of rest was a motel in Barstow, $63 a night for a room overlooking a pool might as well be the Ritz.
Surprisingly, it's one of the few motels in Las Vegas still in business — a glaring reminder that the era of the ubiquitous American motel has come and gone. "In 1964, there were upwards of 61,000 independent motels across the United States," reports Arcadia Publishing. "By 2012, that number had dwindled to just 16,000."
By most accounts, the 50s and 60s were the Golden Age of independently owned motels. "Mid-century motels styled themselves as roadside resorts, offering luxuries previously available only at expensive hotels, like swimming pools," reports Dose.com. But by the 1980s, as the Interstate Highway System was bypassing U.S. Highways nationwide — the best-known example was the complete removal of Route 66 from the U.S. highway system in 1985 — and in response to competition from the newer chain hotels that became commonplace, the mom and pop motels began to disappear.
"Before long, small-time motor courts were rendered obsolete by chains like Holiday Inn that blurred the distinction between motels and hotels," reports Smithsonian Magazine. "Single-story structures gave way to double- and triple-deckers. The thrill of discovering the unique look and feel of a roadside motel was replaced by assurances of sameness by hosts from coast to coast."
Nowhere is this decline more visibly apparent than in downtown Las Vegas, where a graveyard of boarded up motels lines Fremont Street. In 2012, Zappos CEO Tony Hsieh launched the Downtown Project, a $350 million revitalization effort to turn Las Vegas' downtown district into a mecca for entrepreneurs. The project included the purchase of motel properties along Fremont, "in an area that was a 'hotbed' for drugs, prostitution and other crime, according to management," reports the Las Vegas Review Journal.
Liatt Ben Yakakov, a bartender who's been living in the downtown district for the past three years and whose friends live in Ferguson's, the residential apartments built on the site of a former motel, tells me that she thinks the remainder of the shuttered Vegas motels are eventually going to be turned into apartments or some sort of new age motel. "My boyfriend and I love going to weird, kitschy roadside motels," she says. "I hope when they eventually do develop these motels, they keep some of the character intact."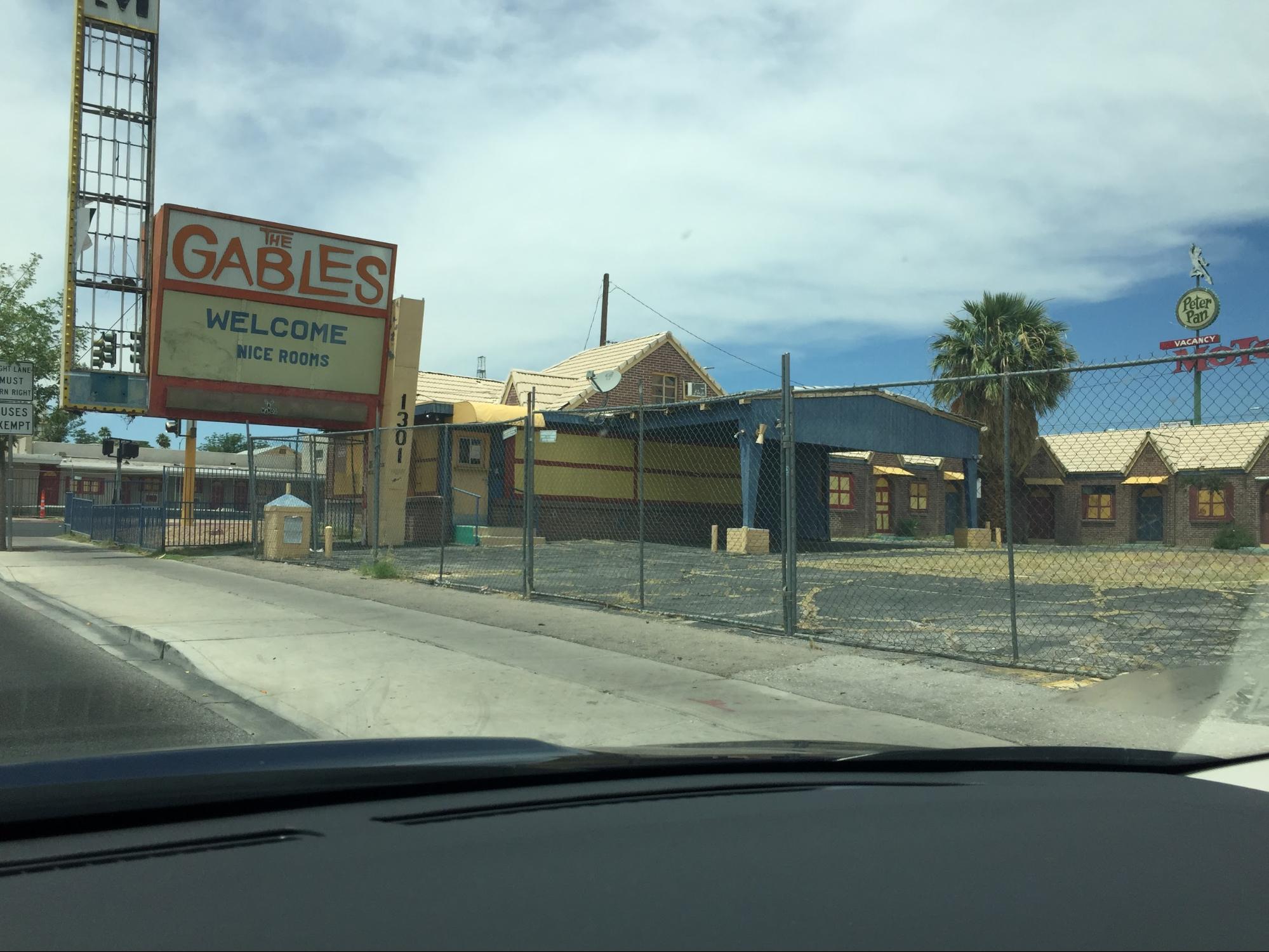 If the latest hospitality trends are any indication, the motel could well see a reincarnation of sorts. Just last year, GQ and Vogue both presented their motel hit list, featuring a bevvy of roadside inns that have been reinvigorated with nostalgic charm. "The motel, by nature of its privacy, cost, and roadside location, makes it the democracy of hospitality, claimed in equal measure by the lone traveler, the family, the trysters, explorers, adventurers, and weary travelers, all wanting to escape in the sweaty tropical scenery of New Orleans," interior designer Nicole Cota, who was hired to work on the Drifter, a recently renovated roadside motel in New Orleans, told Curbed last year.
Cota's definition of a motel encapsulates the idea that motels are the chameleon of the hospitality industry. They adhere to whatever role they're temporarily asked to serve, be it a homeless shelter or an on-a-budget vacationer's overnight lodging. Unlike Airbnb, you don't need an app or even an internet connection to book a room — just show up with a valid government issued I.D. and some cash in hand and the room is yours for the night. It is precisely for this reason that motels — reduced to their current marginalized status by the interstate highway system long before Airbnb arrived on the scene (and besides, it was hotels that would really take that hit) — continue to power up their neon signs for any person or family, regardless of their social or economic status, in need of a place to stay.
Ironically, it's millennials — often blamed for "killing" past-their-prime institutions — who may well be the catalyst for a motel resurgence. According to a report in USA Today, there seems to be an upswing in the basic motel model, with exterior corridors and rooms that guests can drive up to. "The chic motels are a hit with two all-important demographics – nostalgic baby boomers and millennials, those travelers in their 20s and 30s who are looking for non-cookie-cutter experiences when they travel," reports USA Today.
And thanks in large part to the resuscitation power of the nostalgic hipster, the age-old motel designs are unlikely to change. "As modern hotel brands have reclaimed these uniform spaces, a fairly universal approach has emerged," reports JLL.com, a world leader in real estate services. "Designers tend to keep the overall architecture and trademarks of the building intact — as well as the exterior corridors, motor courts and small swimming pools. They often throw in a neon sign or two, so the establishment screams 'hip vintage.'"
To be clear, nothing about the Motel 6 Tropicana "screams hip vintage," especially when, just before 11 a.m., a middle aged white guy with matted gray hair, wearing a powder blue polo shirt, two leather shoes but only one sock, a befuddled look on his face as though he's fallen out of a golf cart and into the motel lobby, tries to explain to the woman working at the front desk that he's lost his phone. He starts to check out, only to change his mind a few minutes later and book his stay for one more night. At least for the time being, this motel clearly isn't yielding its unironically trashy roots to the tides of millennial hipsterdom.
*****
Six hours later, it's nearly nightfall in Los Angeles and a would-be Instagram influencer is posing for moody fashion shots in front of the dusty neon sign at the Hollywood Premiere Motel. Behind the perforated metal door next to the motel office, day manager Bonnie, a middle-aged Chinese woman, watches television as the smell of steaming rice pours out from the room. Before long, a man with letters tattooed on his neck, sporting a wife beater, slicked back hair, thin sideburns and a wispy mustache, pulls up in a beat up white Lincoln with black tinted windows. He aggressively begs Bonnie for a room for him and his girlfriend, who, he says, has lost her I.D. in a fire. "That [iPhone image] I.D. is no good," Bonnie explains to me after the man, furious, leaves the motel office and peels out of the parking lot. "I need to see the person first. Sometimes I don't like them and I need to say I need both person's I.D." It's clear that Bonnie, who's been dealing with this sort of situation for nearly two decades, isn't easily susceptible to intimidation.
Motel manager homicides are thankfully rare: A quick Google search reveals just one that occurred this year in Savannah, Georgia, and another last year in Blackwell, Oklahoma. Still, I can't help feeling concern for Bonnie after this episode, so I ask if she ever gets scared working by herself, especially at night. "Not scared, but sometimes there's trouble," she admits. "This morning, a man booked a room for two people but he showed up with three people. I can't have that. I gave his money back. I keep the [office] door locked, if it's no good, I don't open the door."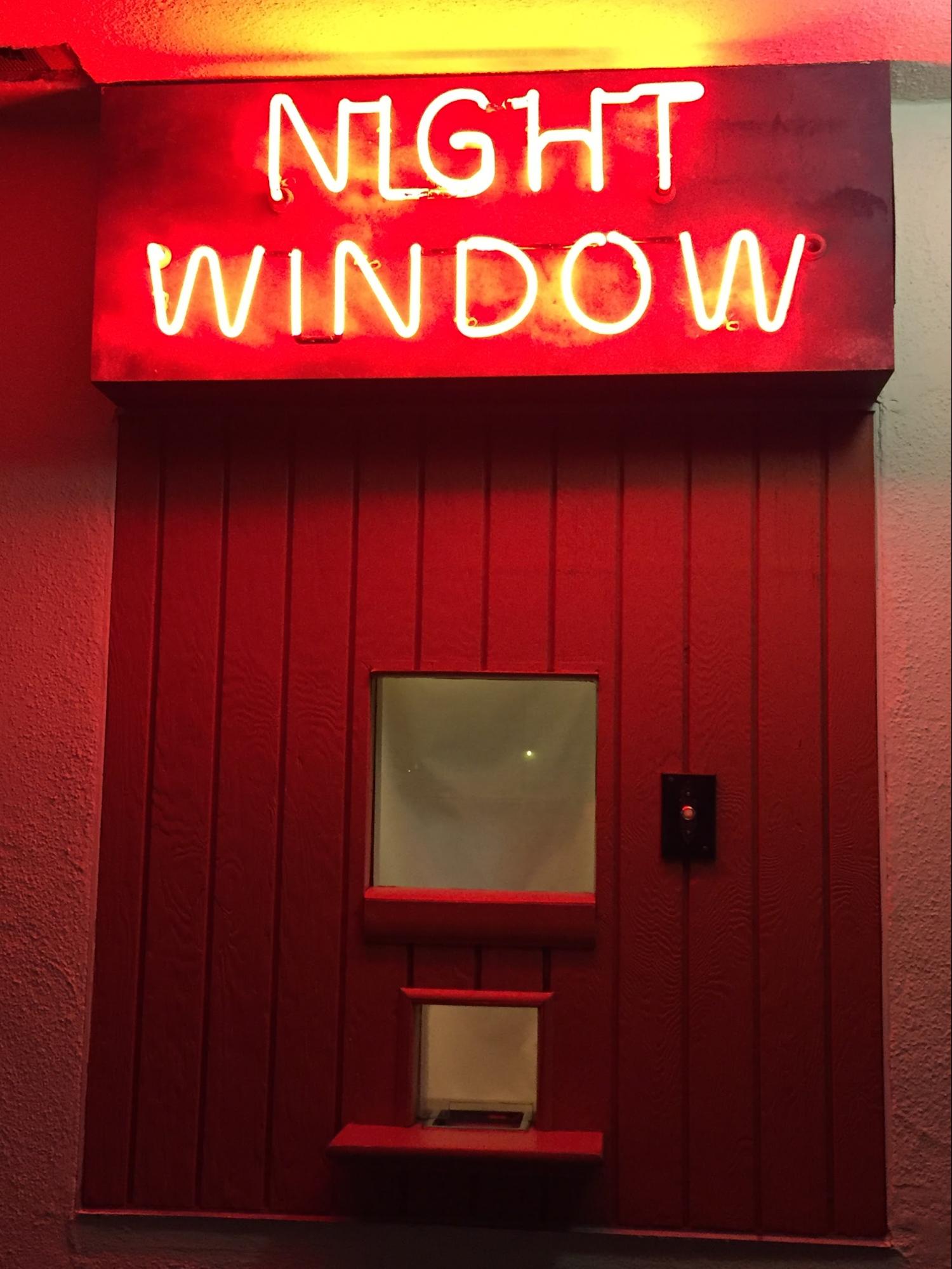 I should stress that, even at this moderately scuzzy motel on Hollywood Boulevard with a neon-lit "Night Window" that belongs in a Nicolas Winding Refn movie, most of the guests I encounter are either passing through, or simply in urgent need of a cheap place to crash. This includes an elderly man and his grown son who tell me they've been evicted from their family home of 50 years and need a place to stay while they "figure out their next move." There's also a man named Lukas who, at least for tonight and thanks to this $105 a night motel, has a roof over his head. "I don't have a place to live," he says. "I do handyman work on the side or I do personal assistant work so I can pay for a room. I just got divorced and she took everything."
If privacy is your most important stipulation for an overnight stay, this eerily barren motel room feels quieter than the others. The furniture is just far enough apart to make the small room feel empty: A single lamp on the wall; an exposed clothing rack below an empty shelf with no door and ten or so wired hangers; a beige corded telephone resting on an unusually long cabinet. The smell is similar to that one room in your grandma's house dedicated to hoarding antiques, old Tupperware and other keepsakes that have been quietly accumulating mildew over the course of a lifetime.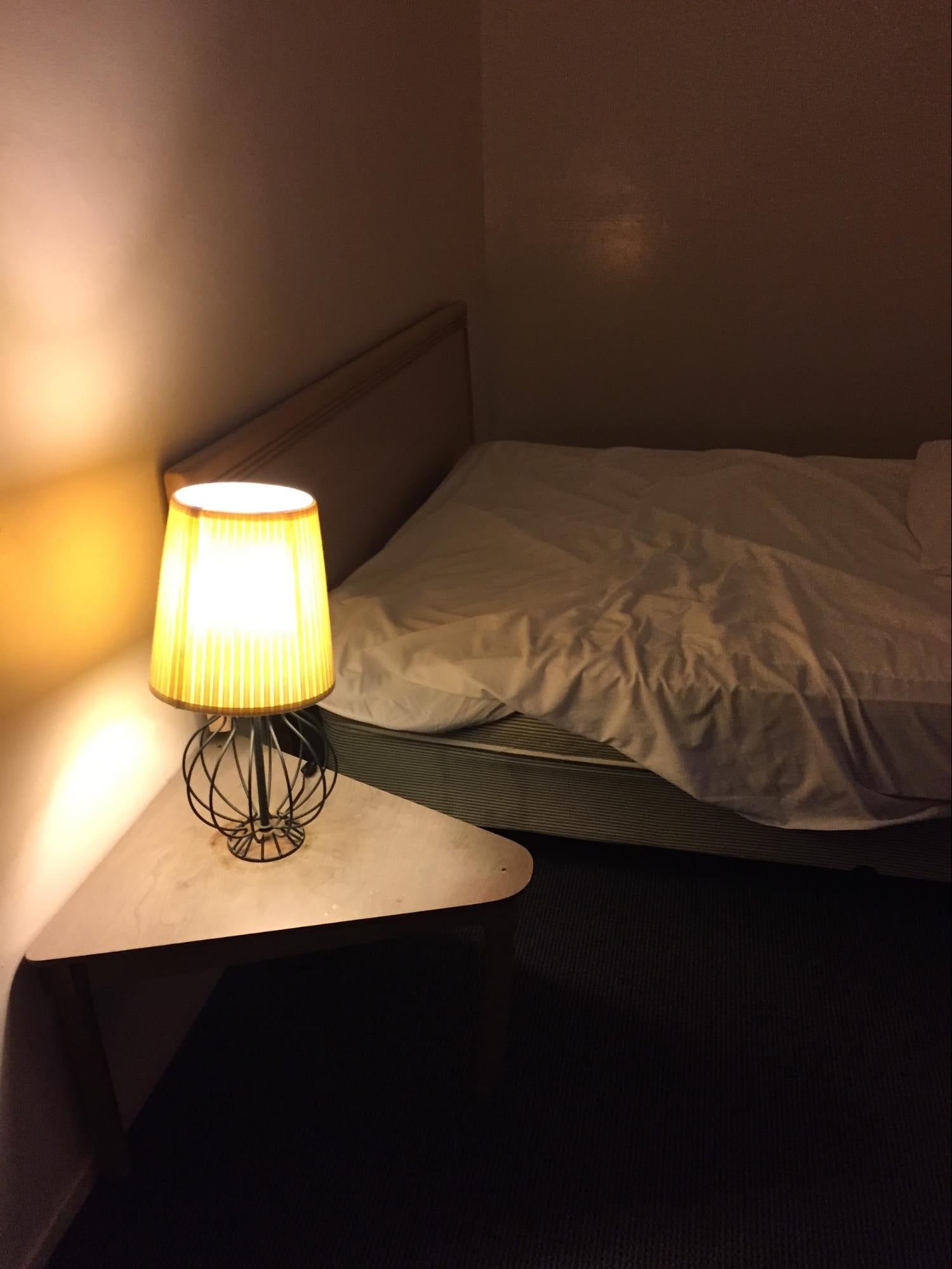 Just before sundown, a woman chases her three kids as they run around the motel parking lot. In broken English, she explains that she can't go home, stumbling on her words before struggling to describe her husband — I can't quite make everything out, but it seems as though she's taken the kids and run away from him. If I'm reading her situation correctly, for her and her kids, this decrepit motel room is a life raft — and unsurprisingly, there are many survivors of domestic abuse using motels to stay afloat. "Local organizations have contracts with local motels and hotels to provide an 'x' number of vouchers for victims of domestic abuse when shelters are at capacity," says Miranda Stiers, a capacity building program specialist with the California Partnership to End Domestic Violence. "Quite often, it's motels that are the ones more willing to do it [house victims of domestic abuse]. They have contracts with the county."
Stiers adds that typically, a person or family in need of housing assistance is going to be placed in a motel as a temporary shelter for anywhere between two weeks and 30 days. "There's an app called Safe Night that we partner with. People who want to help those in need receive an alert when someone needs a safe place to stay and the app lets them make an immediate donation to pay for a motel room for the person in need," says Stier.
*****
For my last stop, I arrive at the rent-by-the-hour Mustang Motel on Western Avenue in Los Angeles, seven miles directly south of the Hollywood Premiere. It's a last-of-its kind (only one other of the nearly 20 motels I called in Los Angeles offer an hourly rate) love den offering a heart shaped jacuzzi in red and white tile. If motels were given stars based on the number of crusty white blotches on the carpet, this maroon-drenched honeymoon suite for couples that are likely not married is a five star accommodation. The price per hour is roughly $17, but since there's a three hour minimum, the actual cost is $51 — a small price to pay for those in desperate need of some private time in a room with a mirror above the bed.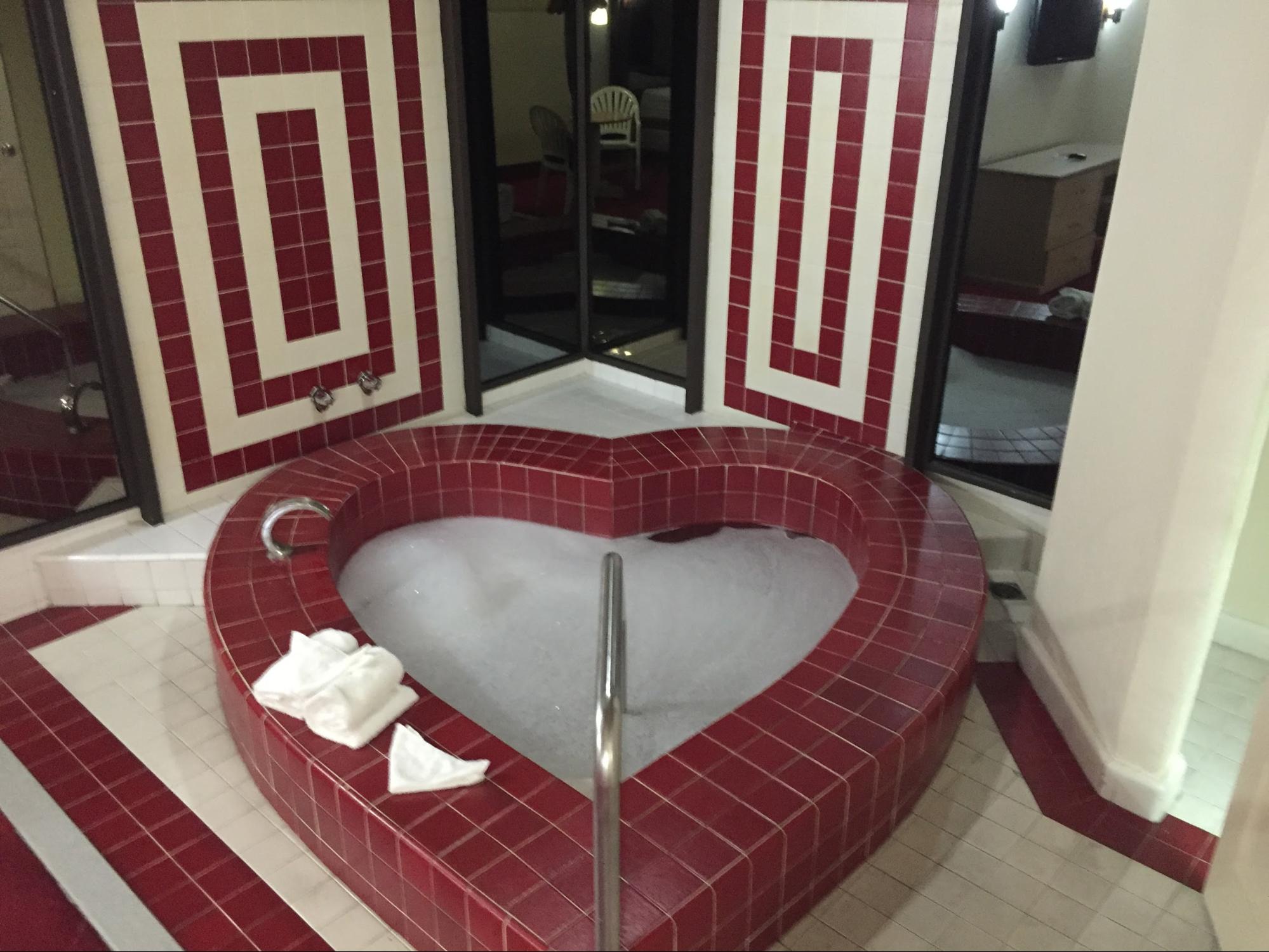 Directly across the street is the Snooty Fox Motor Inn, the Mustang's lesser twin (it does not, for example, offer rooms with heart shaped tubs). Both establishments, under the same ownership, offer hourly rates that are not discussed over the phone: Instead, to get a room at either motel, one is required to stare at their own reflection in the opaque black-box-office-style window, where a faceless voice asks for your I.D.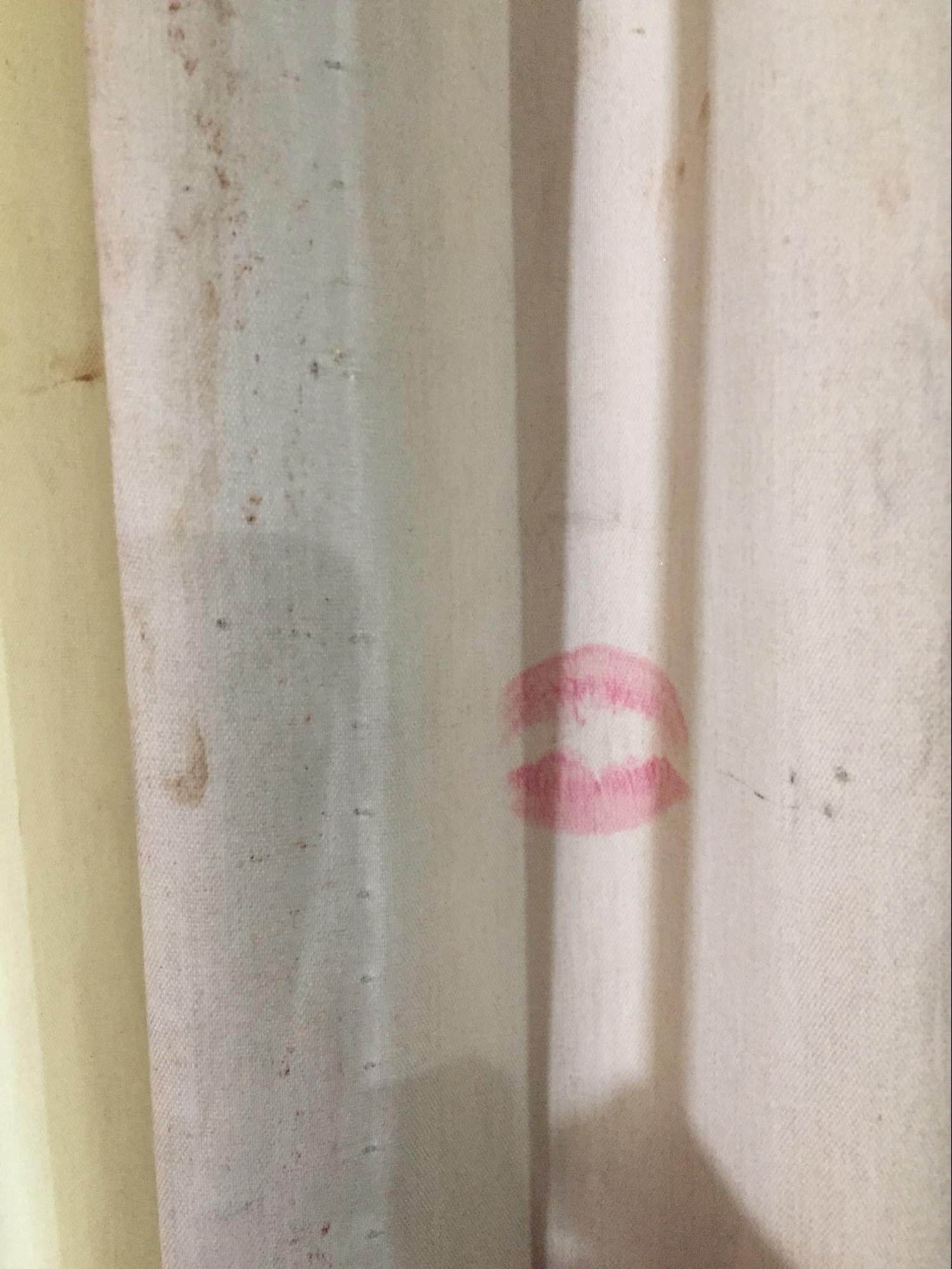 Surely, the first few people lucky enough to have deflowered this room did so with the peace of mind that this was virgin territory. For me, however, it's impossible to ignore the lipstick on the curtains, the tiny star scratched into the light fixture and the haunting feeling that, in spite of its overtly lusty decor, this is not a cheery place.
In that sense, the Mustang is the most effective reminder that the average motel is still potentially the scene of a salacious crime waiting to happen. "A study of Chula Vista motels by California State University, San Bernardino (CSUSB), found that low room rates were strongly correlated with higher call-for-service rates," reports Arizona State University's Center for Problem-Oriented Policing. "Compared with motels that charged from $41 to $60 a night, those that charged $40 or less per night had twice the number of service calls per room, and more than two-and-a-half times the number of arrests per room."
A 2010 article in the New York Times suggests that some pimps operate out of motel rooms, keeping an eye on the girls on the street from behind ratty drapes: "Prostitutes use the rooms for customers or to take a shower and nap before returning to work," per their report.
According to StreetsBlog LA, this neighborhood is part of a patchy collection of areas around south L.A. known as "strolls." "Day or night, rain or shine, you can find a girl on the street that can help meet your 'needs' for a few dollars," they report. "They sit at bus stops, stand on corners, walk up and down the block, dance by themselves on quiet side streets just out of the glare of the main drag, brazenly post up like sentries at the driveway entrance of the Mustang Motel — they are ubiquitous."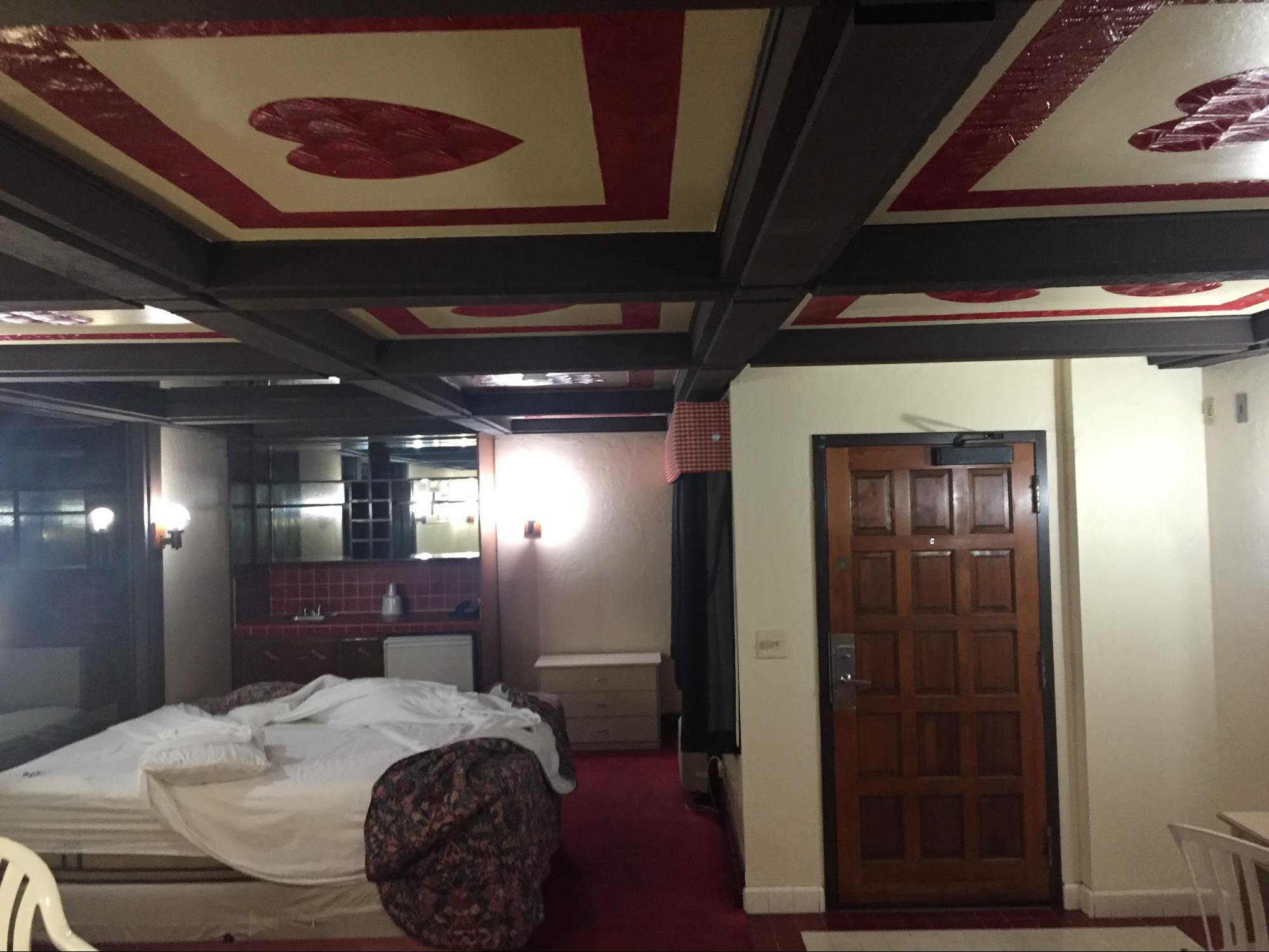 Ironically, there are at least two signs — one on the outside wall of the Mustang and one on the window — that say, "NO PROSTITUTION, NO DRUGS, NO DRUG DEALING." An additional sign on the outer walls of the building notes that the Mustang is under police surveillance — this has presumably been the case since at least 2015, when a man was charged with kidnapping and killing an autistic 11-year-old girl who he had forced into prostitution, and who had last been seen outside the Mustang Motel between 3 a.m. and 6 a.m, reports NBC Los Angeles.
While it's likely true that a number of the working women around here are more mature and working independently, many are underage and similarly forced into the trade by human traffickers. "In the 21st century, Los Angeles suffers from a massive sex trafficking problem," reports VICE.  "In the first quarter of 2014, Los Angeles Magazine reported 29 confirmed cases of child sex trafficking in the city." And so as my third and final hour inside the Mustang approaches, what began as somewhat giddy bemusement at a room designed for watching yourself fuck gives way to an onslaught of unsettling questions I will never know the answer to.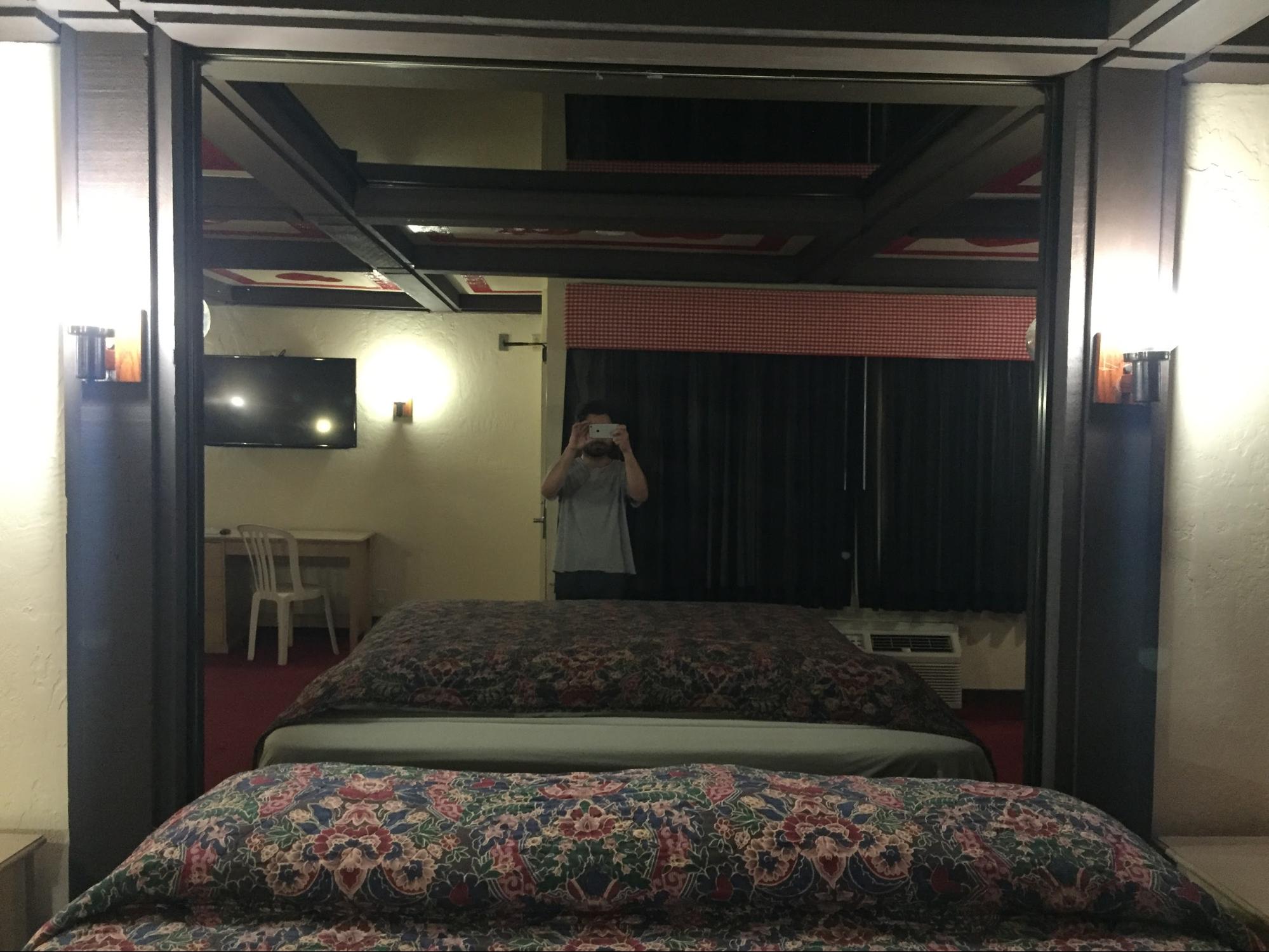 With these questions left unanswered, I'm torn about whether or not the enduring relevance of the motel is a net positive for American society. On the one hand, they are unequivocally essential to maintaining some semblance of dignity for a person or family who would otherwise be relegated to a tented street corner, or underneath the covering of a bridge. As our economic system continues to wage war on the destitute, pushing them further and further towards forgotten, at least these motel rooms provide a few basic comforts for their survival. And sure, it's fun, even exhilarating for someone in my position to travel around, chasing all-American nostalgia in places with neon signs and funky furniture. But the majority of people I encountered were not staying in motel rooms to make memories: They were there because they had been forced into some twilit dead end.
As I write this, nearly a week since my motel escapade began, I've become keenly aware of the sheer number of motels in my neighborhood alone. Drive to any city, anywhere in America and you too are sure to find a neon-lit roadside inn, beckoning. I assure you there will be at least one car in the parking lot. It's clear for the foreseeable future that, despite the transient DNA of these establishments, as an institution, the motel is anything but temporary.