The images have become famous in America. They feature an enthusiastic chef with a wide grin and a big, curled mustache, gripping pasta in his hands, posing as though he's about to shove it into some famous person's mouth. But while taken with everyone from Alfred Hitchcock to John F. Kennedy, the unmistakable star of the photos is Alfredo Di Lelio, who goes viral on Twitter every so often as the guy who invented fettuccine Alfredo. Most recently, a series of tweets posted by @trrvvb brought Di Lelio back into the limelight, reminding everyone that the "Alfredo" in fettuccine Alfredo was an actual guy.
The most curious element of the photos is, of course, how the pasta is served. Bare-handed pasta-fisting was Di Lelio's trademark, and the pictures of him handling pasta this way have endured, even decades after his death in 1959. But Di Lelio's legacy isn't just carried by photographs. His restaurant, Il Vero Alfredo, is still standing in Rome, and it's been passed on to several of his descendants, starting with his son Armando — "Alfredo II" — and then to his grandson, Alfredo III.
Following the death of Alfredo III in 2013, his sister, Ines Di Lelio, took the reins, along with her daughter, Chiara Cuomo. Both of them joined me from Rome to talk about the origins of fettuccine Alfredo, their family's legacy and if Alfredo Di Lelio really served his pasta bare-handed.
Can you share the origin story of fettuccine Alfredo?
Di Lelio: In 1908, my grandmother — named Ines, like me — was pregnant with my father, and after delivery, she felt very sick, so my grandfather made her a dish to make her feel better. He combined fettuccine with just butter and parmesan cheese, creating fettuccine Alfredo.
It was very, very delicious, and she soon felt better. She said to Alfredo, "Why don't you put it on the menu of the trattoria?" At the time, they owned a little trattoria in a square in Piazza Rosa. He put it on the menu — calling it the "blondes" — and served it until the square closed in 1910. In 1914, he opened a new restaurant, "Alfredo" in Via della Scrofa, which is where fettuccine Alfredo became famous.
How did fettuccine Alfredo become known worldwide?
Cuomo: The reason why fettuccine Alfredo became famous in the United States was because, in 1920, two famous actors of silent movies, Mary Pickford and Douglas Fairbanks, were on their honeymoon in Rome. They came to Alfredo alla Scrofa and fell in love with fettuccine Alfredo, and especially how Alfredo prepared it.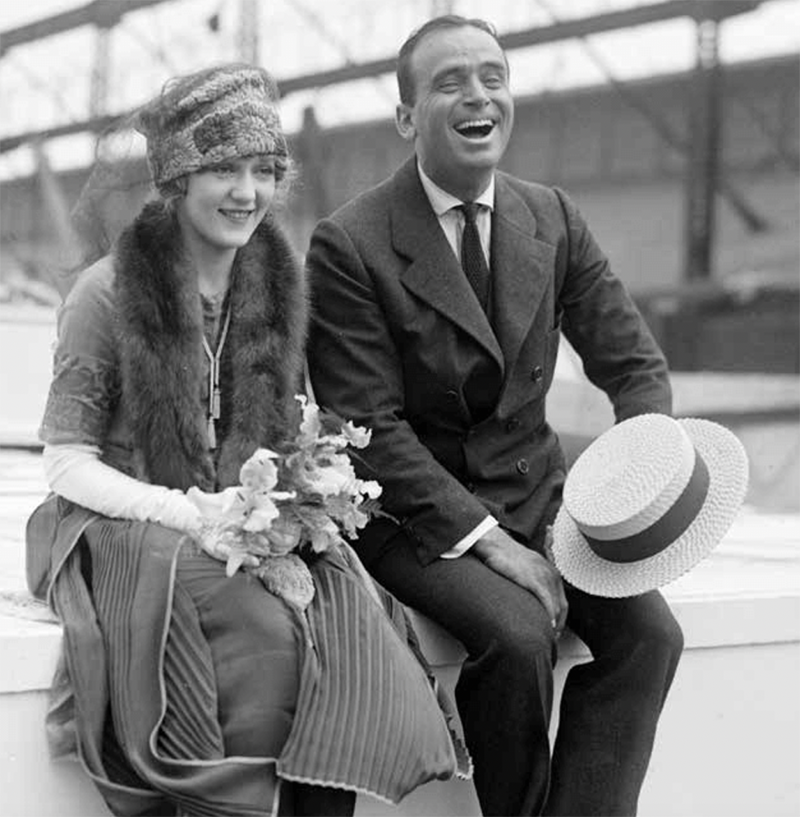 Di Lelio: My grandfather was really an actor at heart. He would mix the butter, fettuccine, parmesan and cooking water at the table, and it was quite a performance he gave!
Cuomo: Fairbanks and Pickford came back to Alfredo many times, and in 1927, they gave Alfredo a gift. It was a golden fork and spoon with the engraving, "To Alfredo, King of the Noodles." After that, Alfredo became very famous, with lots of tourists and celebrities coming to the restaurant to eat with the golden cutlery. This is why fettuccine Alfredo became so famous in the States.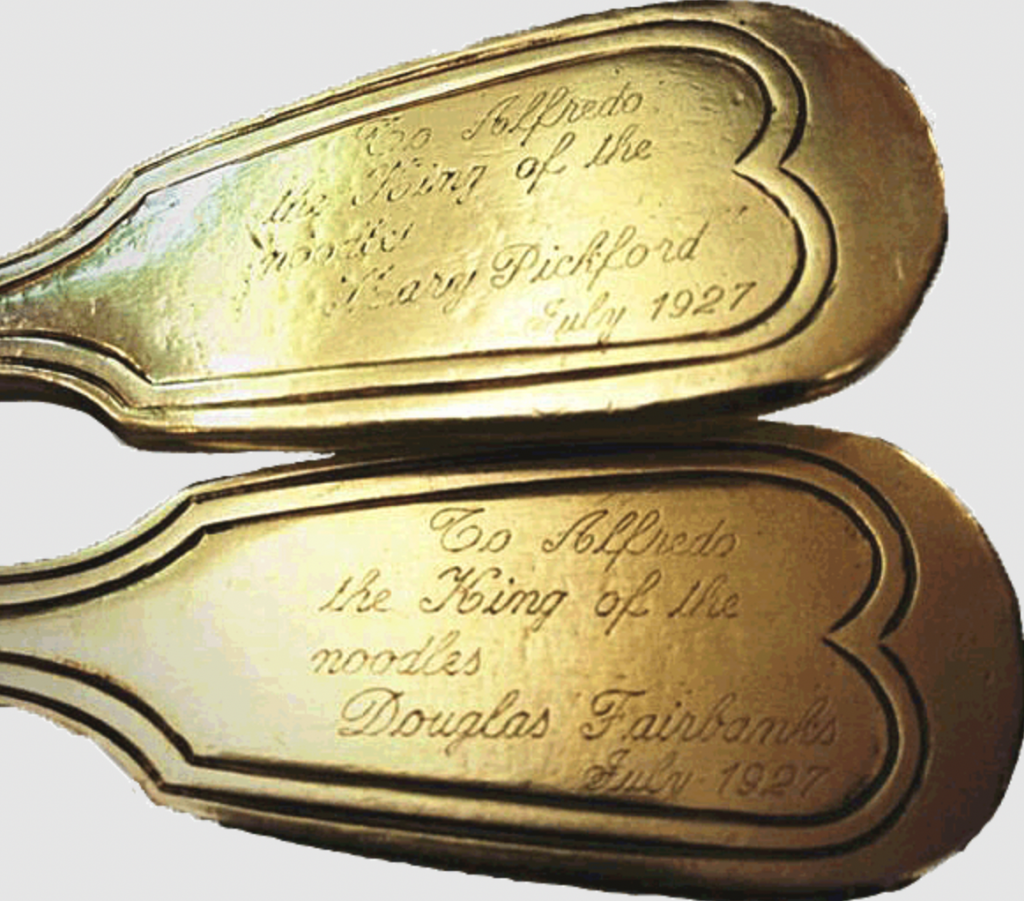 What other famous people came to the restaurant?
Di Lelio: Oh so many, and there are so many anecdotes about Ava Gardner, John Wayne and JFK. Liz Taylor was a frequent customer. She had five or six husbands, and each time, she came with a new husband. When she saw the old photos [of her and her previous husbands] on the wall, she wanted to cover the pictures and take one with her new husband. Eventually, my father suggested, "Ms. Taylor, how about we take a picture with just you and I instead? No husbands."
When did Alfredo retire?
Di Lelio: In 1943. It was very difficult. There was the war, and he couldn't keep his customers or get the food he liked to serve, so he left it to my father [Alfredo II].
Cuomo: In 1946, they — [Alfredo I and his son, Alfredo II] — sold the restaurant, but in 1950, they opened Il Vero Alfredo, where we still are today. Alfredo died in 1959, and my grandfather [Alfredo II] ran this restaurant until 1982.
Di Lelio: My brother [Alfredo III] ran the restaurant until he died in 2013, then me and my daughter took it over to carry on the tradition. We could not let our family legacy die.
Do you still make fettuccine Alfredo the same way today?
Cuomo: Yes, the fettuccine Alfredo is made tableside by the waiters, and it gives it a special atmosphere. It's still those same ingredients, just butter, cooking water and parmesan — no cream, no chicken and no shrimp. The ingredients aren't from the supermarket, though. The butter and parmesan are made only for us, and the butter is more fat and the parmesan is very fresh.
Is that the best way to have fettuccine Alfredo, without any chicken or broccoli or anything else in it?
Cuomo: Yes. That is the best way.
Of all the noodles you could serve with Alfredo sauce, why fettuccine?
Di Lelio: This question would be best for my grandfather, but I think the reason why fettuccine is best is because the sauce attaches to the fresh fettuccine better. It absorbs the ingredients.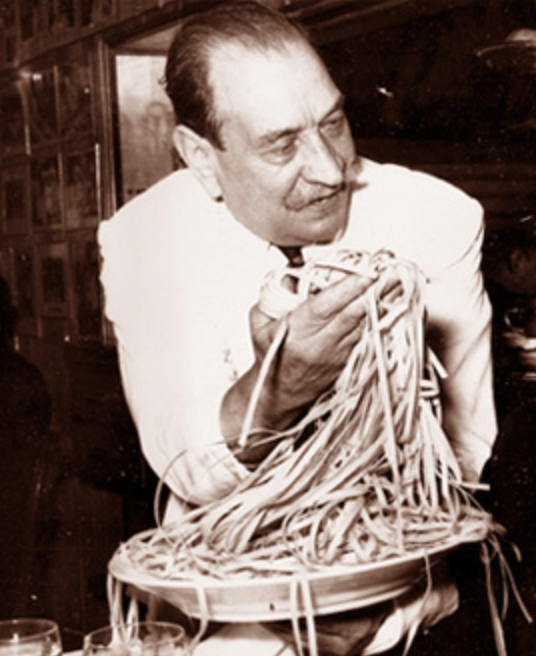 Most importantly, did Alfredo really serve the pasta with his bare hands?
Di Lelio: No, that was just for photographs with celebrities. It wasn't cooked. It was a tradition that he would do, and then my father, Alfredo II, continued it and so did my brother. Now we also do the pictures of us holding the pasta.
Cuomo: We keep up the tradition, the only difference is that there is no more mustache.