My 28-year-old brother Maxwell dresses like he's in blink-182: big T-shirt, cargo shorts, skate sneakers and socks pulled up his calves. It's not necessarily his look of choice, but it's a summer formula he's adhered to for years. The strength of the look, however, is less about fashion and more about function. Form-fitting clothes or pants without elasticized waistbands are reserved for special occasions, like Christmas, when my mom has more time in the morning to get him dressed. 
Maxwell is disabled. And so, he spends all day in a wheelchair, unable to lift his arms above his head or straighten them. My mom both chooses his daily wardrobe and places it on him. Each aspect of his outfit then serves a certain utility, whether it be comfort, ease of removal, aiding his circulation or the fact that skate sneakers are basically the only shoes that can reasonably accommodate his leg braces. 
What, though, if there were an alternative? Or, better put, what if a clothing line were able to combine such utility with actual style? Because while my brother doesn't hate his blink-182 look, he and my mom would definitely love if he had a few other options. And so would a lot of guys like Maxwell. 
For example, Matti Koester, a 24-year-old from Pittsburgh, has had a lifelong brachial plexus injury. As a result, his arms and shoulders are underdeveloped. "I have really small, kind of atrophied shoulders from my injury, and shrimpy arms," he explains. Yet the rest of his body more or less developed as intended. "I'm thin, but I've got a bit of a gut, butt, thighs, etc.," he says. Thus, he struggles to strike a balance between looking proportional and avoiding appearing as though he's been "swallowed" by a garment. "So I often end up getting stuff that's either sized a little too small, or women's or boys' sizes, because they tend to fit my physique better.
"I've worn a lot of the same formal clothing since I was 14 because my body hasn't changed as much as most [assigned male at birth] people's would have since then," he continues. "I really struggle to be recognized in public as an adult sometimes because of my physique, and I'm often still perceived as a teenager even though I'm nearly 25." 
The good news is that things are starting to change (if slowly). Target has been introducing adaptive clothing, and Tommy Hilfiger released an entire line of adaptive wear in 2018, known as Tommy Adaptive and in line with the brand's overall aesthetic (but with added features like magnetic button closures and elastic waistbands).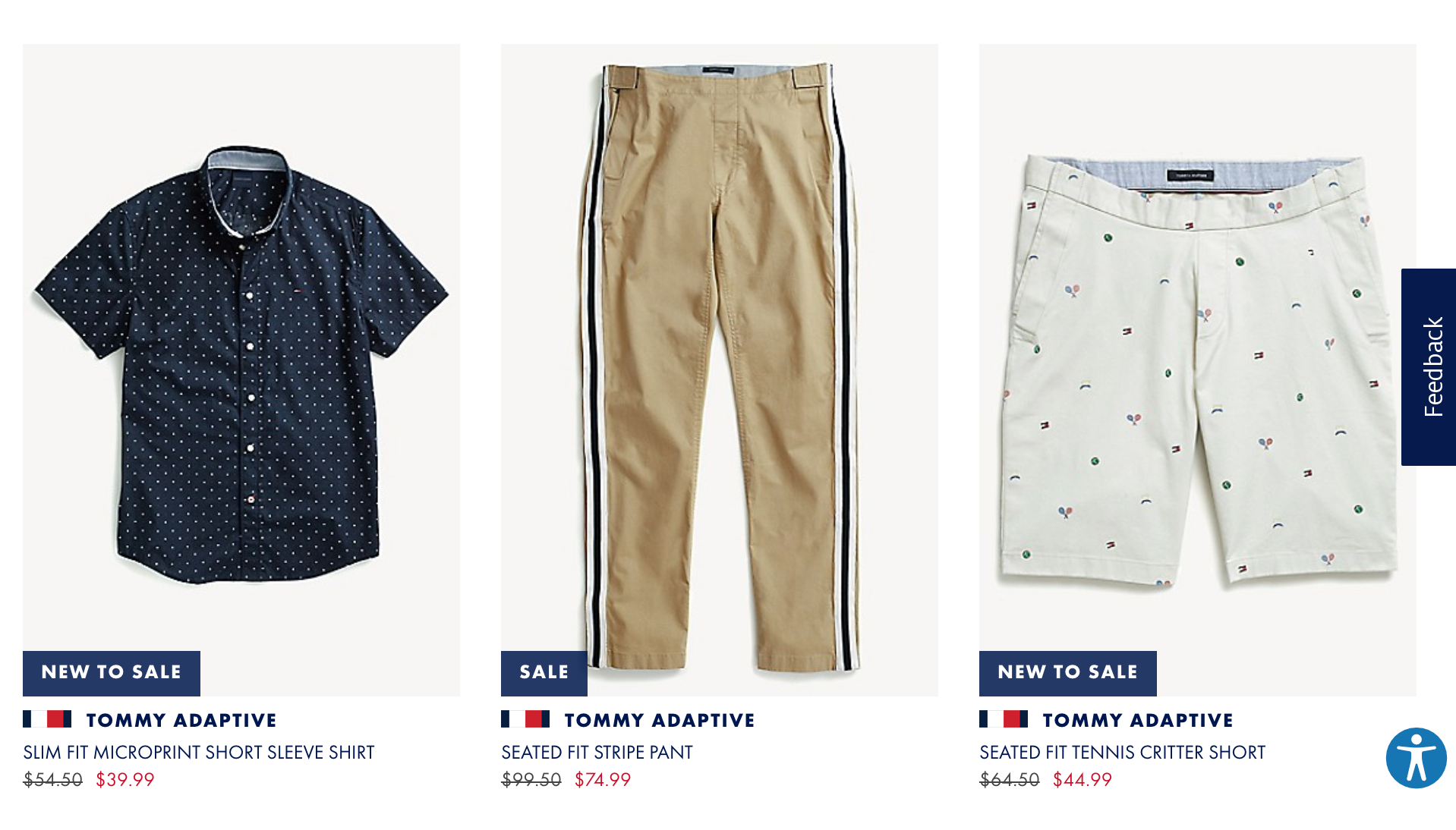 Etsy has some interesting alternative options, too. Marta Elena Cortez-Neavel runs one such Etsy shop, called AbiliteeAdaptiveWear, and has made nearly 3,000 sales since 2016. Based in Austin, Texas, she began creating adaptive clothing in 2014 alongside Julie Sanchez, a close family friend and pediatric trauma surgeon. Together, they designed a onesie for babies with gastronomy tubes. "Over the next few years, and through many meaningful patient conversations, we continued to identify common patient problems that could be addressed through thoughtful clothing design," she explains. "Our product lineup includes ostomy covers, G-tube pads, insulin pump belts and clothing to use during chemo or surgical recovery, just to name a few examples."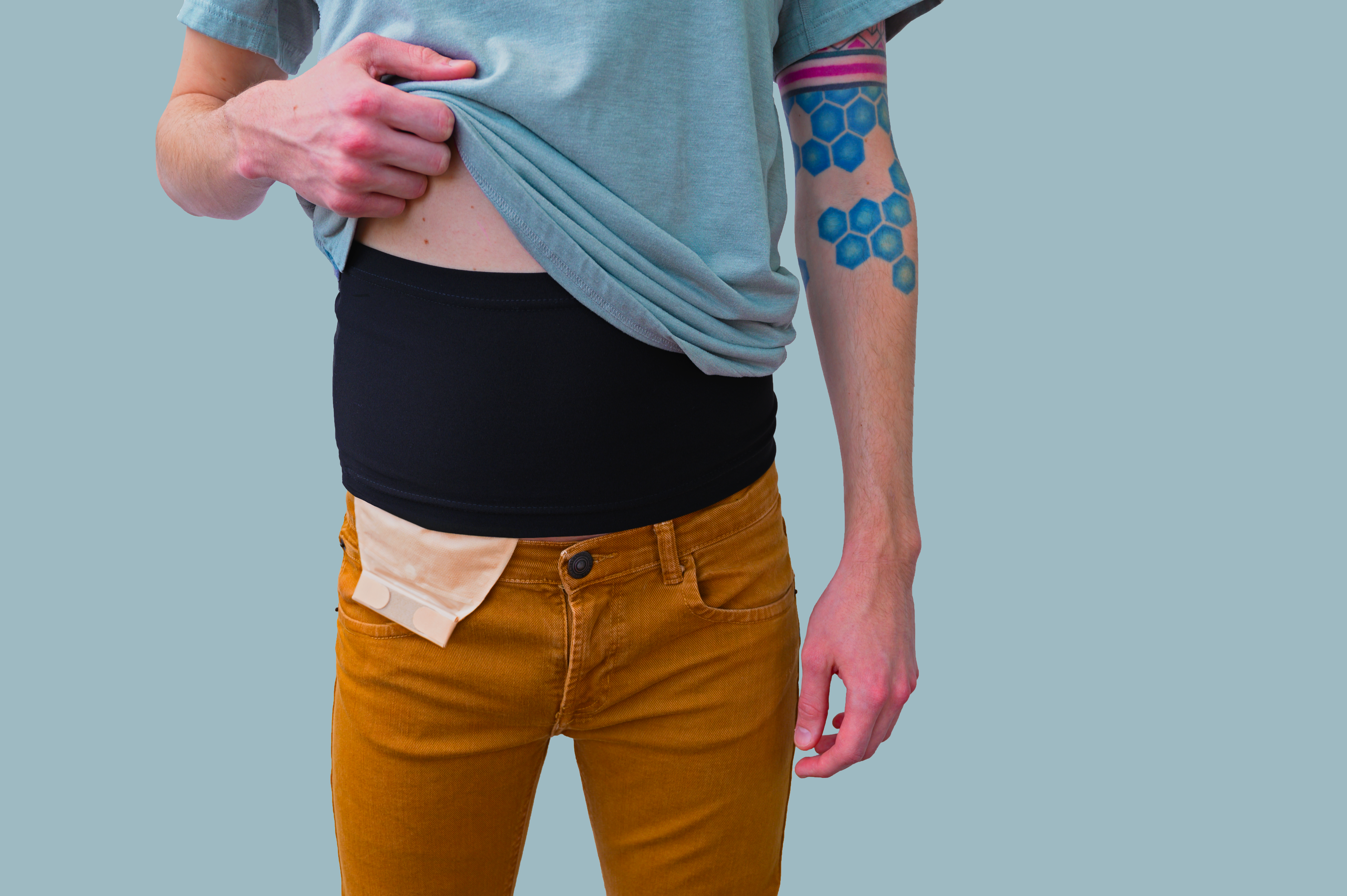 Beyond just serving a utility, Cortez-Neavel's line offers an appearance of normalcy. Her men's baseball tees, for example, look just like any other young man might wear in line with today's fashion, but offers snaps along the collar/shoulder area for easier dressing and more discreet access to G-tubes. The range of ostomy covers and G-tube pads similarly offer more discretion. Rather than looking like medical wear, they just look like clothes.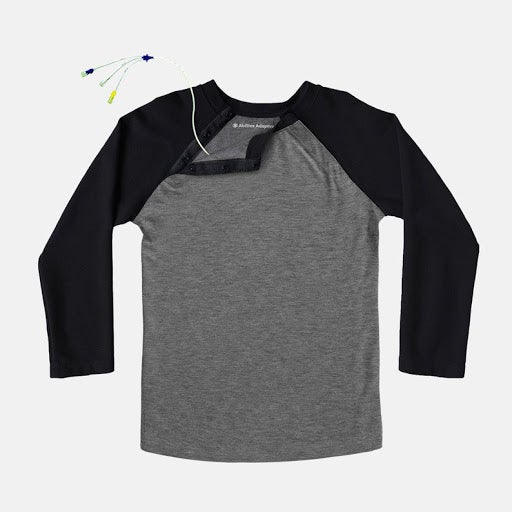 "[Target and Tommy Hilfiger introducing adaptive lines] is a major step toward inclusivity and equality in the fashion industry, but adaptive offerings are still limited in availability, style and the scope of medical needs addressed," Cortez-Neavel continues. Still, she's hopeful that as inclusivity increasingly becomes a topic of conversation (and a potentially enormous business opportunity), retailers will continue to offer better options for people's specific needs. "Our goal — and the aspect of our work that I personally find most exciting — is to contribute to this movement by researching and innovating functional adaptive products that serve specific, unmet needs, while maintaining the integrity of apparel design," she says. 
Maybe the best part of Cortez-Neavel's business proposition, though, is that it's online and far from the aisles of packed-to-the-gills big-box chains. Case in point: Because of the difficulty of transporting my brother's wheelchair, a trip to the mall could be a day-long endeavor for him and the family. Not to mention, Maxwell suffers from seizures, requiring thrice-daily doses of an anticonvulsant delivered via gastrostomy tube. And an unexpected loud noise, flash of light or even accidentally bumping his legs against something could lead to a seizure in the hour or two before he's due for his medication. 
"Looking for clothes would be a good time only if he were interested in fashion," my mom says. "Otherwise, it's a chore. And trying clothes on doesn't happen. It's a best-guess purchase at best." 
My mother, ever the deal hunter, is happy to thrift most of Max's clothes, and my brother doesn't care much for fashion. Getting clothes tailored is hypothetically an option — as Queer Eye recommended in the season four episode featuring a dude in a wheelchair — but between work, managing a household, doctors appointments and all the other labors that go into caring for and being a person with disabilities, who has the time? 
Tommy Adaptive, with its free shipping and returns, is a step forward, but at $54.99 for a collared shirt from the sale section, the brand certainly isn't affordable for everyone. Until adaptive clothes get their own section at H&M — that is, until they become as accessible as any other stylish clothes might be — Max is still going to dress like it's 2002.