The return of HBO's Curb Your Enthusiasm after an excruciating hiatus is the first good thing to happen in 2017, and I can't be the only one rewatching the series to pregame the Season 9 premiere on Sunday. (There's a solid Hugh Hefner episode if you want something topical, FYI.) And while the sitcom's skewed version of real-life writer and comedian Larry David tackles all sorts of arbitrary customs, from sidewalk stop-and-chats to doctors' check-in policies, it's worth noting how often he gets caught up in the most basic societal expectation: appropriate clothing. Even in the first scene of the pilot, he talks about the infamous "pants tent" problem.
Offscreen, David has been praised as an icon whose fashion "favors comfort and an unfussy 'what you see is what you get' confidence." His aesthetic is a 21st-century continuation of the "normcore" aesthetic defined by his earlier hit series Seinfeld; a "dad-brand non-style" that resists all trends and achieves an easy, dorky timelessness by being sort of forgettable. But it's in the fractured mirror-world of Curb where Larry's threads really earn the spotlight.
Let's take a moment to appreciate his finest looks.
1) Blue Sweater/Dark Blazer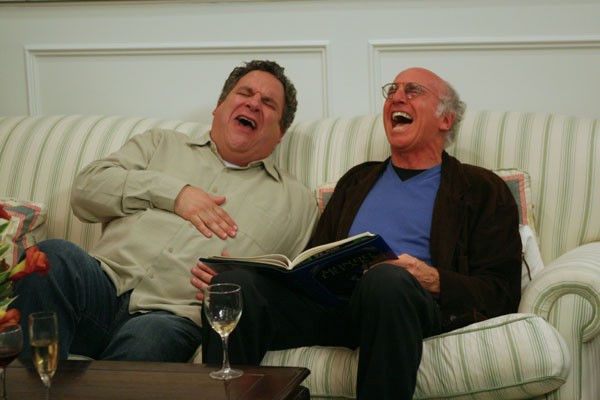 "The Freak Book" (Season 6, Episode 5) sees Larry sporting his most familiar combo — a dark jacket over a soft blue sweater for exquisite contrast. (Here it's a V-neck, but sometimes it's a thin long-sleeve tee with a standard crew neck). This ensemble is a standout for all the risks it takes: matching black chinos to the visible black undershirt, both offset by the deep earth tone of his (corduroy? velour?) jacket, which he allows to function as a loose cardigan. The layering here is nothing short of masterful.
2) Chet's Shirt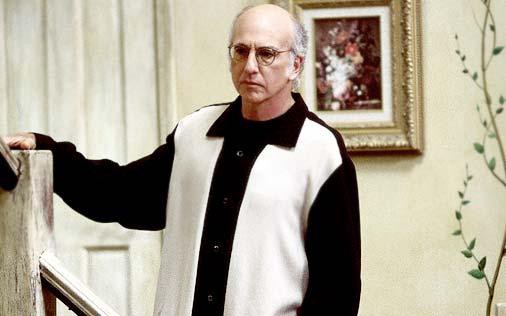 "Chet's Shirt" (Season 3, Episode 1) gives us great insight into Larry's fashion choices and fixations as he endeavors to learn the origin of a shirt worn by a dead man in a family photograph. He of course comes to regret buying a replica, but not before rocking the bold, bowler-style button-down as many times as humanly possible. He refuses to roll up the baggy sleeves, open the collar, or apologize for those fat lapels; it's almost like he's figured out the business-casual version of a tuxedo. Perfect for a backyard party.
3) Stained Beige Suit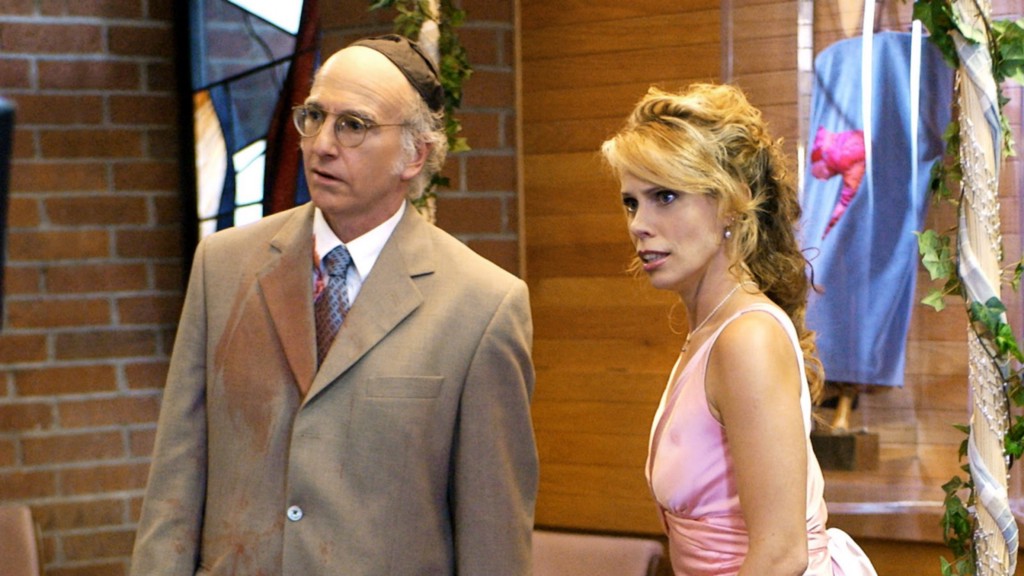 "The Survivor" (Season 4, Episode 9) requires Larry to don a suit and tie more than once, which he's never really thrilled about. It doesn't help that his formalwear keeps suffering massive stains as a result of slapstick arguments involving an irritable Holocaust survivor. Still, you have to admire him sticking it out for the renewal of his marriage vows ("It's a go-home stain, but I didn't go home," he tells the rabbi), as if to confirm there's no practical difference between haute couture and not giving a fuck.
4) Vintage Yankees Jersey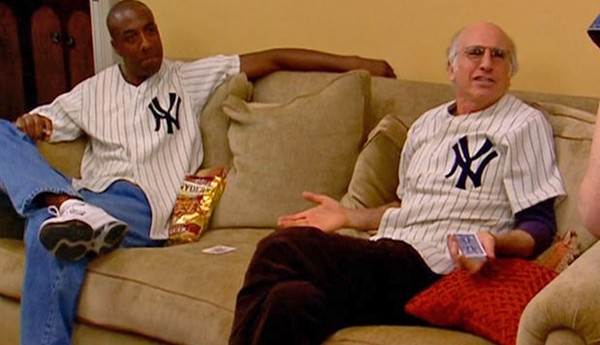 "The Anonymous Donor" (Season 6, Episode 2) revisits Larry's ongoing grievances against dry cleaners, this time over the disappearance of his beloved Yankees jersey. (His affection for such an evil team is excused by his age and the fact that he'll still pick up a prostitute so he can use the carpool lane to get to a Dodgers game on time.) The blue long-sleeve undershirt here is a subtle nod to how the real uniforms are worn, but those rich, cozy, burgundy pants let you know that he's liable to take a nap whenever, wherever.
5) Knit Sweater/White Dress Shirt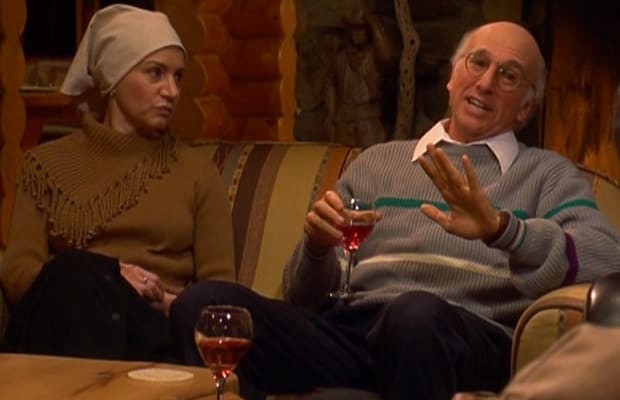 "The Ski Lift" (Season 5, Episode 8) showcases Larry's most elaborately absurd deception: pretending to be an Orthodox Jew in order to suck up to the head of a kidney-transplant consortium. He leaves nothing to chance, least of all his wardrobe, which veers toward an ultra-conservative palette, yarmulke included, with just a hint of Yiddish quirk in the purple and turquoise stripes. For the purposes of a winter getaway, he needs to nail "responsible accountant après-ski" — and that white collar cinches it.
6) Hoodie/Running Shorts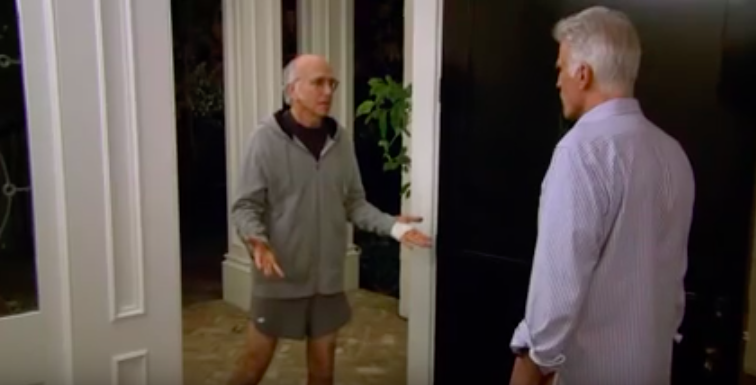 "The Hot Towel" (Season 7, Episode 4) opens with Larry advising a stranger not to wear shorts on a plane — because men's legs are "grotesque" — so it's fair that Ted Danson calls Larry's legs "disgusting" later. On inspection, however, Larry's legs appear lithe and tan, flaunted well by risqué workout shorts. Paired with a heavy, durable, oversized hoodie, it seems you could do a lot worse for an impromptu evening outfit when on the run from your girlfriend's jealous boyfriend. Danson just wishes he could pull this off.