Tara Williamson, founder of Pink Ink Tattoo, is on a mission to tattoo as many nipples as one woman can. "It was like divine intervention," she says. "Something inside of me just said, 'You will do this, and you have to do this.'"
No, the nipples Williamson designs aren't fastened to a big-breasted succubus sprawled across a biker's back; they're for people who've lost theirs to breast cancer, top surgery or liposuction (which can result in depigmentation).
"When I was 39, I was diagnosed with breast cancer," Williamson says. "I had a double mastectomy." Left without nipples, even after a long process of breast reconstruction, her plastic surgeon recommended areola tattoos (an increasingly popular option, since only a select few mastectomies are nipple-sparing). "I ended up having them done by the nurse," she explains. "It was an awful experience. It was painful. I didn't have color choices. She didn't use any numbing."
The one positive that came from her otherwise traumatic experience: An unceasing motivation to provide others with a better option, which inspired Williamson to train with a specialist and hone her technique, one that she says is distinctly different from normal tattooing. "The machine I use is different," Williamson explains. "The ink is totally different. The ink I use is specifically formulated for breast cancer survivors. It's gamma-sterilized. It's made in the USA. It's safe for MRIs." (Not that standard tattoo ink is unsafe, but Williamson says she takes extra precautions with her inks and application to avoid problems during future scans and treatments that cancer survivors often endure.)
Now, Williamson is able to help anyone in need of new nipples, like Ari, who opted out of nipple grafts during top surgery. "I didn't want to deal with the stress and healing process of nipple grafts," they say, but nipple tattoos felt more in their wheelhouse. "I love how it makes me feel. I don't know if I'd have had the same experience had I gotten grafts instead, but this was definitely an easier healing process and much more in my comfort range." (To heal nipple tattoos, Williamson applies antibiotic ointment for three days, then hydrocortisone cream, and finally a non-scented moisturizing lotion or vitamin E cream.)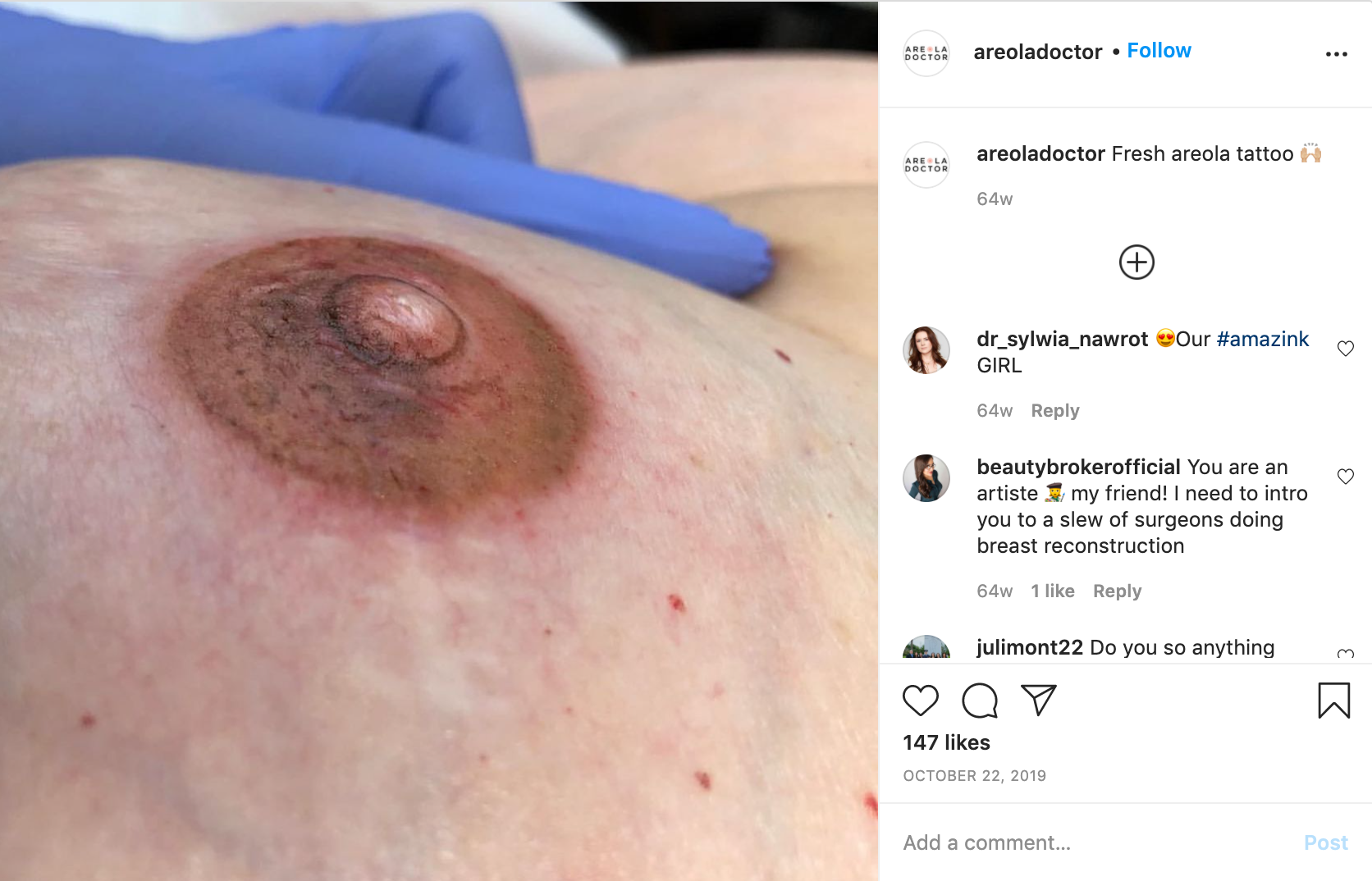 As for cost, paying between $600 and $800 for both nipples is common, but Williamson says the procedure can be covered by insurance in certain cases — namely, the Women's Health and Cancer Rights Act of 1998 requires insurance companies that offer mastectomy coverage to also pay for reconstructive surgery, including nipple tattoos.
Covered or not, Williamson says her clients repeatedly express that the procedure is well worth it. "It's literally life-changing," she insists. It may seem like just a nipple, but it's not; it's the happy ending after a battle with breast cancer, or the cherry on top of a transformation that finally makes you feel like, well, you.